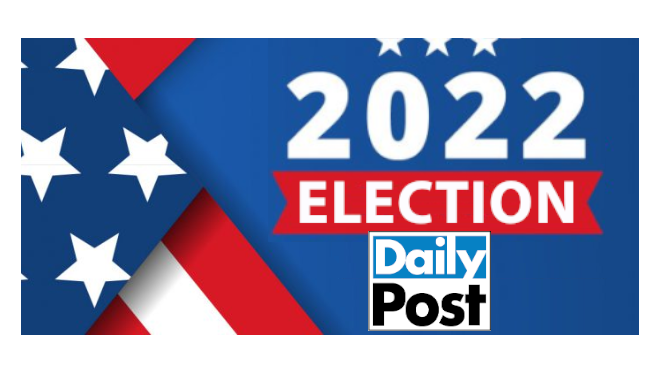 It's election time. In the Mid-Peninsula, several races are taking place this November. Here's a rundown.
SANTA CLARA COUNTY
Sheriff — Kevin Jensen vs. Bob Jonsen
In the sheriff's race, unions back Jensen while elected officials are in Jonsen's corner
Candidate profile: Retired sheriff's Capt. Kevin Jensen ready to reform sheriff's office
Candidate profile: Palo Alto Chief Jonsen promises to hold deputies accountable
Longtime Sheriff Laurie Smith to retire at end of term
Post Opinion: Kevin Jensen should be Santa Clara County's next sheriff
Jury convicts former sheriff Laurie Smith on all counts in corruption case
Santa Clara County Valley Water District, a.k.a., Valley Water
Report criticizes behavior of Water Board's Gary Kremen but says there was no sexual harassment
Allegations fly in fiery debate for seat on Valley Water board
Money flows in water race
Kremen steps down as Valley Water chair while investigation into semi-nude photos begins
Valley Water's term-limit extension measure called deceptive
Palo Alto City Council
Pick three
Candidate profile: Alex Comsa
Candidate profile: Lisa Forssell
Candidate profile: Brian Hamachek
Candidate profile: Julie Lythcott-Haims
Candidate profile: Ed Lauing
Candidate profile: Doria Summa
Candidate profile: Vicki Veenker
Council race getting expensive – Top candidate raises $69,561
Opinion: Lythcott-Haims shouldn't be elected to council
Opinion: The Daily Post recommends Lauing, Summa and Veenker for council
Who is supporting whom in city council race
Mayor Burt withdraws his endorsement of candidate
Palo Alto Measure L
Measure L will decide the use of profits from city's natural gas utility
Palo Alto Measure K
Palo Alto's business tax is just the beginning, city manager says
Council puts smaller business tax on ballot after business groups agree not to campaign against it
Snubbed councilwoman votes against business tax; support dropping
City negotiating tax with businesses
Palo Alto School Board
Pick two
Candidate profile: Ingrid Campos
Candidate profile: Nicole Chiu-Wang
Candidate profile: Shounak Dharap
Candidate profile: Shana Segal
Opinion: The Daily Post recommends Segal and Dharap for school board
Candidates denounce school board hopeful's LGBTQ remarks
Los Altos City Council
Two incumbents and one challenger vie for three seats on the Los Altos City Council
Mountain View Los Altos High School District
Six vie for seats on high school district board
SAN MATEO COUNTY
Menlo Park City Council, District 4
The other two district seats up for grabs this year are uncontested.
Natural gas, Measure V divide Nash and Ohtaki in Menlo Park's only contested council race
Measure V, zoning in single-family neighborhoods
New law allows Ravenswood district to build housing on old Flood School site
Under pressure, Menlo Park City School Board flip-flops and declines to take a stand against Measure V
If Measure V passes, proponents won't pay legal city's fees if suits are filed
Menlo Park City School Board to vote on whether to oppose Measure V
Measure V opponents report 330K
Donors who oppose Measure V — they include Sobrato, Grove
Donors who support Measure V — money is from just one part of town
If Measure V passes, the city would get stuck paying legal fees to defend it in court
Measure V may delay remodeling of fire station
Fire chief won't take sides on Measure V
Ravenswood School Board votes to oppose Measure V — ballot measure called 'disgraceful'
Council hears from both sides in the Measure V controversy
Guest Opinion: Measure V will protect neighborhoods
Guest opinion: Measure V returns power to the residents
City attorney says closed meeting on Measure V was legal
Council snubs Measure V leader
Candidates for fire board outline their goals
East Palo Alto City Council
Pick two
Four candidates seek two seats on the embattled EPA San board
Ravenswood City School Board
Slate of three candidates running for school board
Atherton Town Council
Four vie for three seats on town council
Ravenswood schools
Slate of three candidates running for Ravenswood City School Board
San Carlos School Board
All five seats on San Carlos school board are up for grabs — here's who is running
San Carlos City Council
Two City Council incumbents face three challengers in San Carlos
Redwood City Council
A look at how Redwood City candidates will tackle issues such as homelessness and housing
San Mateo County Board of Supervisors
District 3
Candidate profile: Ray Mueller says he's ready to go from City Council to county Supervisor
Candidate profile: Parmer-Lohan focuses on climate change, preventing wildfires
Fundraising in Supervisor race is neck-and-neck
Post opinion: Mueller best choice for county supervisor
Belmont
Belmont voters to decide on hotel tax rate
Belmont residents to vote for mayor for the first time
Mates leads in fundraising in Belmont mayor's race
Sequoia Union, Belmont-Redwood Shores schools
Opinion: No on Measures S and W
Voters in two districts will vote on bond measures
A look at the four candidates hoping to replace incumbents on the Belmont-Redwood Shores School Board
Recent M-A graduate among the candidates for Sequoia Union High School District board
Sequoia Healthcare District
Two races for seats on the Sequoia Healthcare District board
State ballot propositions
Seven questions ranging from abortion to gambling will be on the ballot
Local ballot measures
Voters in most cities will be asked to raise taxes.