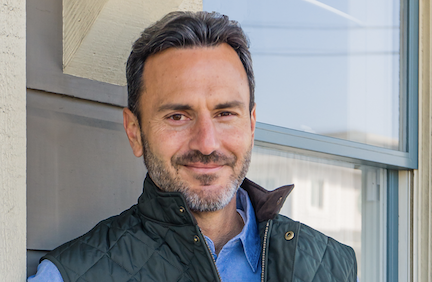 BY EMILY MIBACH
Daily Post Staff Writer
With 10 years on Menlo Park City Council under his belt, Ray Mueller says he's ready to dive into the issues the San Mateo County Board of Supervisors deals with.
Mueller, 48, has been on the Menlo Park City Council since 2012, prior to that he was on the city's Transportation Commission. For his day job, he works for IEM, a disaster and crisis management firm, as an attorney and director of technology applications. Previously, he was Santa Clara County Supervisor Joe Simitian's chief of staff.
While working for Simitian, Mueller said he learned that working for the board has a huge impact — unlike being elected to office in Sacramento or D.C., the official doesn't leave their constituents.
One way to make sure he reaches those constituents? Mueller said he'd add an office on the coastside, pointing out that people who have an issue, don't have an hour to drive to Redwood City, or time to wait to make an appointment with Mueller. He'd open up a coastside office and spend two or three days a week out there.
Mueller said another thing he'd change about the current way the board of supervisors operates is to hold hearings on issues relevant to county residents. For instance, Mueller suggested having a hearing with insurance companies to find out how residents can avoid having their fire insurance canceled in fire-prone areas.
Homelessness
During his time on the council, he was part of a subcommittee in 2020 with then-Mayor Cecilia Taylor to address homelessness, including at the encampment in the Bayfront in the area across from Facebook known as the Ravenswood Triangle or Kavanaugh Tract.
In December of that year, Taylor said that the number of residents in the encampment had decreased. An issue they faced then and are still dealing with is that unless you can prove someone is an immediate danger to themselves or others, they cannot be taken in on a psychiatric hold. Mueller said he appreciates Gov. Newsom's proposal of expanding conservator-ship laws in order to force homeless people into treatment. Mueller talked about a homeless man in downtown Menlo Park who had an open sore on his foot and gangrene was settling in. Mueller and various agencies could tell the homeless man all they wanted of his options, but since the sore was not an immediate threat to the man's health, there was nothing that could really be done.
Mueller also noted that if you're uprooting people in encampments who are "chronically homeless" — then you're just moving the problem around. He said homeless people need services for their problems, whether it's mental health, escaping from an abusive situation or so on.
One of four candidates
Mueller is one of four candidates running to take the seat currently held by Don Horsley on the Board of Supervisors. Horsley cannot run again because of term limits. His district includes San Carlos, Atherton, Woodside, Portola Valley, Pacifica, Half Moon Bay and parts of Menlo Park and Belmont.
Also seeking Horsley's seat is San Carlos Mayor Laura Parmer-Lohan, Harbor Commissioner and Menlo Park Fire Board member Virginia Chang Kiraly and Steven Booker, a Half Moon Bay resident and political director for IBEW 617.
The Post is publishing articles after interviewing candidates for the various races on the ballot. Pick up the Post to read about the candidates that Mueller is running against and others who will appear on the June 7 ballot.