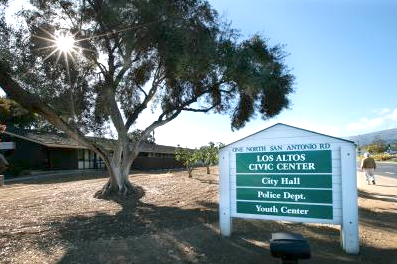 This story was originally printed in the Wednesday, May 18, edition of the Daily Post. If you don't want to miss important local news stories, pick up a copy of the Post every day at 1,000 Mid-Peninsula locations.
BY BRADEN CARTWRIGHT
Daily Post Staff Writer
The Los Altos City Council is scuttling a tax meant to pay for a new police station after a poll showed a high chance of voters rejecting the measure.
After a lot of work to pursue the tax, the council put it off until 2024 without discussion last week.
City Manager Gabriel Engeland buried the decision on last week's council agenda under "informational items only," so council members weren't allowed to talk about it.
Engeland recommended that, based on the results of a survey, the city should consider a measure to raise taxes on utility bills in 2024 instead.
The pollster, Bryan Godbe of Godbe Research, wrote in a report that his company asked 369 residents if they would vote to "simplify" the existing tax on utilities rate.
Just over half responded that they probably or definitely would vote yes on a new tax structure.
Of those in favor, 35% said probably yes, and 15.8% said definitely.
The poll could be off by up to 5%, Godbe said.
Pollsters didn't tell people how the tax would change, only that it would bring in $3.1 million for city services.
The current tax rate is 3.5% for electric, gas and water; 3.2% for internet, cable and cell phone service; and 2.5% for prepaid phone service. A proposed measure would make the tax 7% for all of them.
A council committee consisting of Vice Mayor Sally Meadows and Councilman Jonathan Weinberg had seven meetings with city employees to talk about funding a new police station, and the whole council dedicated their Feb. 22 meeting to the topic.
Past funding measures
Los Altos voters have been reluctant to fund city construction projects. A redesign of the Civic Center failed in 2009 after surveys showed poor results, and a $65 million bond measure to replace the community center on Hillview Avenue failed by 71% in 2019.
Councilwoman Lynette Lee Eng, who was the only council member not to vote in March to hire Godbe, asked Engeland last week to put the poll results on a future agenda for discussion, not as an informational report.
Mayor Anita Enander said she would talk about it one-on-one with Engeland, but Councilwoman Neysa Fligor jumped in and said a majority of council would need to vote to put a discussion on the agenda.
Enander and Lee Eng are in the council minority, while Fligor, Meadows and Weinberg usually vote together.
The mayor usually works on the agenda with the city manager, but council must approve changes that would take employee time.
Engeland agreed with Fligor and said a discussion on the survey would take time. Godbe would also have to be paid for more work, he said.
Godbe had recommended they wait to go before council until January "to potentially start a campaign" for the tax in 2024, Engeland said.
Fligor said she would support Lee Eng's idea to talk about the survey results before then, making a majority.