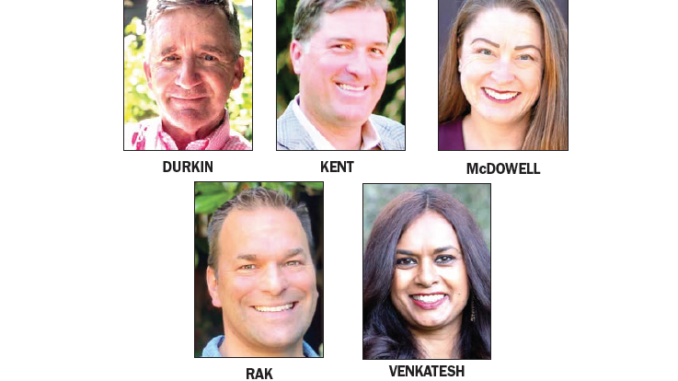 Oct. 10, 2022
BY EMILY MIBACH
Daily Post Staff Writer
San Carlos residents are voting on three council seats as the city faces unprecedented development on its east side and plans for more housing in town.
Incumbents Sara McDowell and Adam Rak are seeking re-election while Councilwoman Laura Parmer-Lohan can't as she is running for San Mateo County Supervisor. This opens up at least one seat on the council. Preschool owner Pranita Venkatesh, Parks and Recreation Commissioner John Durkin and commercial property consultant Alex Kent, are all running.
Venkatesh is the owner of Paragon Montessori Preschool, and has taught on the Peninsula for over 20 years. She's on the town's economic development commission. She's been endorsed by Congresswoman Jackie Speier, Assemblyman Kevin Mullin, State Sen. Josh Becker and San Carlos Councilman Ron Collins. She says being on the city's economic development commission makes her ready to get involved in the council from day one. Her top priority if elected would be creating affordable housing and additional child care. She also wants to work on the city's economic development and public safety.
Venkatesh praised the city's current planning efforts, especially for focusing on building and planning for housing along El Camino. She noted that the city must continue to do outreach, and that residents "must understand the need for housing creation and trust the city and its leaders to make balanced decisions."
She says the topic she hears the most about while campaigning is the closure of Laurel Street. She said many residents want to see the closure along portions of the street continue due to the safety, walkability and "festive community atmosphere" the closure has created.
Kent is a member of the city's Community Emergency Response Team, or CERT, and a co-administrator of the San Carlos Dog Park, he is politically independent and says he will be able to listen to the entire San Carlos community. He says the council needs an independent "devil's advocate" to balance "what many San Carlans see as 100% Democratic rubber-stamping of whatever Sacramento politicians seem to shove our way." Kent is endorsed by Santa Clara County Republican leader Shane Patrick Connolly, and San Francisco Democratic leader Alix Rosenthal. His top priority would be "safer streets," which means less crime and safer pathways for pedestrians and cyclists. He suggests the council add more license plate readers to all entrances of San Carlos and organize a bulk purchase of Ring type of doorbell video cameras to help deter and solve crimes.
When it comes to development, he says San Carlos residents should only vote for him in order to prepare for development on the city's east side, and criticizes the current council for its approval of multiple office projects on the city's east side. Kent says it is time to "clean up" the Laurel Street closure "legally, for accessibility and aesthetically."
Durkin is a retail operations specialist and has worked at Crate & Barrel at Stanford Shopping Center. He is a member of the city's Parks and Rec commission, the San Carlos History museum and San Carlos Lions. He's also organized the San Carlos Hometown Days Parade. Because of his many hats in the community, he's made many connections and knows how to leverage them in order to do various things such as organizing food drives. He did not actively seek endorsements and says he is planning on spending less than $2,000 on his campaign, saying spending $21,000 on mailers to the community is unnecessary.
Durkin says his top priority would be to make streets safe by getting drivers to slow down. This can be done by repainting crosswalks, painting bike lanes green, maintaining roads and adding sidewalks to neighborhoods. He wants to pursue adding two sheriffs deputies — one for traffic enforcement and the other for neighborhood patrols.
Durkin notes that growth in San Carlos is inevitable, and the town needs to be prepared. He also said the new employees coming into town need to be reminded via emails from City Hall not to use neighborhood streets as shortcuts to their offices.
Rak and McDowell were both elected in 2018.
McDowell is currently the city's mayor and is endorsed by Reps. Speier, Anna Eshoo, state Sen. Josh Becker, Assemblyman Kevin Mullin and Supervisor Don Horsley.
During her first term, McDowell says her improvements to town include pushing to reduce the speed limit around schools to 15 mph and to get the city to pay $252,500 a year to fund crossing guards at 11 intersections near schools in town. She also said the council has approved spending $35 million to improve roads around town over the next five years.
She says her top priorities would be to make sure the city grows responsibly, meaning it enhances the community. She also plans to drive hard bargains with developers to make sure the city benefits from the new development. She acknowledges that the city's eastside hasn't experienced must change from its industrial uses for many decades, the incoming life science developments will cause a "massive transformation."
Rak is a senior director in government relations for Trustwave Government Solutions and is currently the city's vice mayor. He has endorsements from Reps. Speier, Eshoo and Zoe Lofgren, state Sen. Becker and Assemblyman Mullin, along with many past mayors and school board members.
Rak's highlights during his time on council include working quickly to close Laurel Street to support local businesses, partnering with nonprofits to build 23 units of low-income housing and working on the financing for 30 more homes. He also brought up the street and sidewalk improvements that McDowell mentioned.
Rak's top priorities would include building more affordable housing, expanding access to parks and open space and further improving the city's infrastructure.
Rak says the city is prepared for development given the time the council spent "with the community" to better understand concerns about growth on the east side and also to learn the opportunities and benefits to create a specific plan for the area.