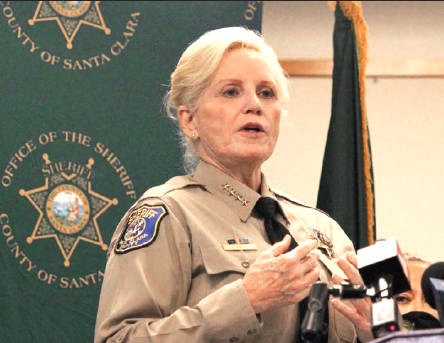 BY BRADEN CARTWRIGHT
Daily Post Staff Writer
Santa Clara County Sheriff Laurie Smith announced today (March 10) that she will not seek re-election after 24 years in office, because she said "it would be unfair to the voters of Santa Clara County to force them to make a decision in the middle of a drama not of their making."
Smith, 69, is fighting a Civil Grand Jury accusation of willful and corrupt misconduct for allegedly giving out concealed carry weapons permits to campaign donors and high-profile individuals, while not considering permit applications from others. She is also accused of lying on campaign finance documents and stonewalling an investigation into the jail.
If Smith is convicted of any of the charges, then she would be removed from office.
Smith said in a statement that she will be vindicated. History will show she is honorable, and her accomplishments will speak far louder than "false stories," she said.
"I have always served the people of Santa Clara County and have never engaged in any behavior that would warrant the media animus, false legal narrative, or political attacks currently in the public domain. I have always dismissed these attacks for what they are — specious attempts by unsavory political opponents in retribution for serving the public with honor," she said.
Smith was sworn in as a sheriff's matron in 1973. When she was elected in 1998, she became the first female county sheriff in California.
Smith's retirement sets the table for a primary with four contenders: Palo Alto police Chief Robert Jonsen, retired sheriff's Capt. Kevin Jensen and two of Smith's jail sergeants, Sean Allen and Christine Nagaye.
Smith, in her letter Thursday, wrote, "My plight is no different and I am confident history will show the first elected woman Sheriff to serve in California was not only honorable — but her accomplishments will speak far louder and be remembered longer than the false stories that will be repudiated by truth. I believe in truth."