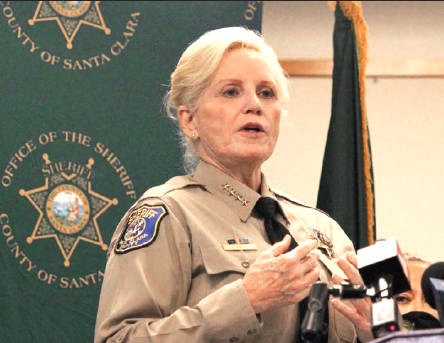 BY BRADEN CARTWRIGHT
Daily Post Staff Writer
The case to remove Santa Clara County Sheriff Laurie Smith from office for bribery and dishonesty is, in a word, historic.
The charges against her weren't brought by the district attorney but rather a panel of citizens called the Civil Grand Jury. Normally, a civil grand jury will release non-binding reports about local government agencies, with suggestions on how improvements can be made.
But the jury has the authority under the law to bring an "accusation" against a public official. Such cases are rare and nobody in the courtroom will have experience with this kind of proceeding.
The accused official, if found guilty, doesn't face the possibility of incarceration. Instead, the only punishment is removal from office.
"It's a serious case with serious consequences," Smith's lawyer Allen Ruby said.
There have been only two Civil Grand Jury accusation trials locally, one in San Mateo County and another in Santa Clara County. Both resulted in guilty convictions, retired prosecutor Bill Larsen said.
Larsen, a deputy district attorney from 1966 to 2005, tried both accusations and became a de facto expert on how they go.
In 1980, he prosecuted Albert DiMatteo, a board member for the San Mateo City School District. A jury found DiMatteo sold the high school's pickup truck and a van to his sister, and she then transferred the pink slips to his name. District bylaws and the Education Code banned DiMatteo from selling surplus property to himself, and he was removed from the board.
In 2002, Larsen prosecuted Mario Ambra, a Mountain View councilman who asked city employees for personal favors and threatened to fire them if they didn't help. A jury convicted Ambra for violating the city charter, and he resigned before he was removed from council.
In Larsen's research, he came across only two other accusation trials: a Shasta County DA was removed from office for being drunk in court, and a Redding councilwoman was removed for using a city credit card to buy herself food and hotel rooms.
How it works
In California courts, there are juries for criminal trials and civil trials, and there are two grand juries.
A Criminal Grand Jury files indictments on serious or high-profile cases presented by the District Attorney, and a Civil Grand Jury files accusations when they believe a public official engaged in willful or corrupt misconduct.
Smith was charged on Dec. 13 by a 19-person Civil Grand Jury, led by Los Gatos resident Karen Delaney.
If the case moves forward, then a new jury of 12 will follow the rules of a criminal trial to decide Smith's fate. They must reach a unanimous verdict, and evidence must prove her guilt beyond a reasonable doubt.
Election overlap
Smith, 69, has not announced if she will seek her seventh term. She has until March 11 to file her paperwork for the June 7 primary.
Smith would face off against four other candidates: Palo Alto police Chief Robert Jonsen, retired sheriff's Capt. Kevin Jensen and two of Smith's jail sergeants, Sean Allen and Christine Nagaye.
The top two vote-getters will face off in the November general election.
If Smith is found guilty, then the Board of Supervisors would appoint her replacement until the next election, District Attorney Jeff Rosen said.
So Smith could be removed from office in the fall and be reinstated by voters in November.
Smith could also appeal her conviction. Neither Rosen nor Larsen know if she would delay her removal while her appeal is pending.
"Frankly, I don't know whether that question has ever been raised," Larsen said.
Bribery accusations
Smith is charged with seven counts, and a jury only needs to find her guilty of one to remove her from office.
The first three counts allege that Smith gave concealed carry weapons permits to campaign donors, high-profile individuals or people who she had a personal connection with.
If someone wasn't a "VIP," then his or her permit application wasn't given serious consideration, the grand jury alleges.
Three more counts say that Smith accepted San Jose Sharks tickets from businessman Harpeet Chadha the day after she renewed his carry permit. The suite tickets were worth more than a $500 gift limit, and — in an act of perjury — Smith intentionally left out the gift on her campaign finance documents, the grand jury alleges.
Claims of bribery have been percolating underneath Smith since a 2011 lawsuit was brought by the California Gun Rights Foundation and Tom Scocca. Scocca, the security director for the tech manufacturing company Applied Materials, said that Smith arbitrarily denied his permit application, compromising his safety and violating state law. Since then, Smith's opponents have raised the issue in campaigns.
In August 2019, Rosen's officers raided Smith's office and ceased cell phones, computers and electronic communications. A year later, Rosen announced charges of felony bribery against two of Smith's top deputies, Undersheriff Rick Sung and Capt. James Jensen. Their criminal cases are in the trial-setting phase.
Other bribery charges from Rosen were dropped after a second look.
Thomas Moyer, Apple's chief security officer, was charged for donating iPads in exchange for carry permits, but a judge dismissed the case because Rosen didn't prove corrupt intent.
Christopher Schumb, a San Jose attorney and political fundraiser, was charged with accepting bribes as Smith's campaign treasurer. A judge gave the case to Attorney General Rob Bonta because Schumb and Rosen were friends, and Bonta promptly dismissed the case because of a lack of evidence.
Smith was never charged, even though she has the sole authority to grant concealed carry permits.
Supporters of Smith are arguing that the Civil Grand Jury is accusing her because criminal charges wouldn't stick.
"(Rosen's) efforts to get the sheriff through the criminal prosecutions were failing," said lawyers for Chadha. "Plan B appears to be to use the Civil Grand Jury to obtain some redress against the sheriff when criminal proceedings could not."
Rosen's officers raided Smith's office after she told him that he couldn't secretly record the phone calls of inmates in the county jail because of a court ruling, which said he needed a warrant for such eavesdropping.
The seventh and final count alleges that Smith failed to cooperate with police auditor Mike Gennaco's independent review of a 2018 jail incident that resulted in a $10 million settlement from the county. Mentally ill inmate Andrew Hogan bashed his head into the side of a jail van over 50 times, and deputies left him without medical care, resulting in permanent brain damage.
The sheriff's internal affairs investigation was ended without explanation, and Smith hasn't given Gennaco documents that tell him why.
One of the supervisors in the Hogan incident, Lt. Amy Le, was president of the jailers union at the time. After the union donated $300,000 to Smith's re-election campaign, the internal investigation was closed without reaching any conclusion, and Le was promoted.
What's next?
Before Smith's lawyers, Ruby and James McManis, defend against specific charges, they will argue that the Civil Grand Jury accusation is insufficient and should be dismissed. They are reviewing more than 6,500 pages of transcripts of witness testimony.
Ruby and McManis must file their motion by March 1. Prosecutors will respond, and San Mateo County Judge Nancy Fineman will consider their arguments on April 26.
The case has been moved out of Santa Clara County to avoid a conflict of interest and now spans three counties. Fineman will hear the case in her South San Francisco courtroom, and deputies of San Francisco District Attorney Chesa Boudin are prosecuting Smith on behalf of the people.
The accusation against Smith is based on the Civil Grand Jury's interviews of 65 people over 15 days. Most of the witnesses are Smith's employees, but Rosen's deputies, security guards, lawyers and business leaders also testified.
Their testimony has been unsealed, but a court reporter is charging $2,127 to share the transcript. Under state law, court reporters sell their work to supplement their salary.
The Civil Grand Jury was asked to investigate Smith in the fall by the Board of Supervisors, led by Supervisor Joe Simitian. Simitian has called for Smith's resignation and criticized how she has run the jail, where inmates beyond Hogan have died or been severely injured at the hands of her deputies.
Superviors also asked the Attorney General to look into Smith's operation. Last month, Bonta announced he was opening a civil rights investigation focused on the condition of the jails, resistance to lawful oversight and other misconduct.
Large number of people involved
Palo Alto criminal defense attorney Daniel Barton, who is representing some of the witnesses, said that when he talks to his lawyer friends, it seems like they all know someone who has been involved in the case. They might know someone who helped Smith's campaign, received a carry permit or had some other innocent aspect of their behavior scrutinized, he said.
"So many people have been dragged in that most of the defense bar is representing some witness in this proceeding," Barton said.
Smith has kept a low profile except for a press conference and an appearance in front of the Board of Supervisors last year to defend herself. She has not responded to repeated requests for an interview.