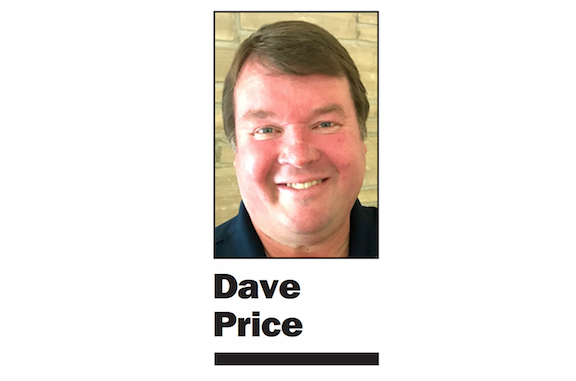 This was originally published Jan. 24 in the Daily Post.
OPINION
BY DAVE PRICE
Daily Post Editor
Why are Redwood City officials keeping secret the locations where cannabis companies want to open stores?
The city government has received 26 applications. The city's complex, multi-phase selection process is taking place behind closed doors. The applications are hidden from the public.
What is City Council and City Manager Melissa Stevenson Diaz trying to hide from the public?
Probably the addresses of these stores. Sure, a majority of residents voted to legalize marijuana in 2016, but that doesn't mean they want a store in their neighborhood. Who wants the crime? And who thinks a cannabis store belongs in a place with a lot of children?
Last week we reported that Redwood City resident Douglas Ledingham discovered that the Air Supply cannabis chain wants to move into the abandoned Any Mountain store at 928 Whipple Ave.
Ledingham had no idea his neighborhood was getting such a store until he spoke to some workers who were cleaning the building after squatters were removed.
This process of keeping the locations a secret until the permits are announced is the opposite of how the state grants liquor licenses.
Liquor license applications are always public record. In fact, the state Department of Alcoholic Beverage Control requires applicants to post a "Public Notice of Application" on the premises for 30 days. In addition, ABC can require applicants to mail a notice to everyone who lives within 500 feet of the store or restaurant and publish a notice in the newspaper.
ABC allows the public to object before a liquor license is final.
The public ought to know where a cannabis store is going before the license is final.
Why the city is taking this approach is a head-scratcher. It's not the only odd thing in the city's process. As I mentioned earlier this month, cannabis companies with problems in other cities are getting high marks in Redwood City's preliminary scoring system.
One of them, TAT, is accused by a competitor of falsely claiming a local resident would be a part owner of their store in Fresno to get a higher score in that city's ranking process. Another Redwood City applicant, Cookies, was criticized by planning officials in San Diego of using a mascot that looks like Sesame Street's Cookie Monster, raising concerns that children will be targeted with a Joe Camel strategy.
By withholding the proposed store locations, Stevenson Diaz is simply asking for more trouble.
She should remember that this process could go sideways in unpredictable ways, which is what happened in Mountain View in 2019.
After a lengthy application selection process, Mountain View was ready to award licenses to two cannabis retailers when a group of largely Chinese parents came out of nowhere to fight the city's plans. At a May 23, 2019 council meeting, dozens of parents spoke fervently against marijuana, claiming the stores would tempt children into trying drugs and weaken their ability to have healthy minds. Council voted to drop the idea of allowing cannabis stores.
•••
Stanford's priorities
A Post reporter covering the two purse snatchings at Stanford Shopping Center on Jan. 18 was told by mall management to leave or he'd be arrested for trespassing.
Yes, trespassing in a public place.
The reporter, who had already interviewed witnesses and taken pictures, complied with the request.
The episode makes me wonder about Stanford's priorities. The company that runs the shopping center for Stanford on a long-term contract, Simon Properties, didn't have a mall cop anywhere near the purse snatching. And he got away.
But when a reporter started asking questions, the mall cop was quick to intervene. Is Simon Properties priority protecting customers from criminals or protecting the shopping center from reporters?
I doubt members of the Stanford Board of Trustees get involved in the day-to-day management of the shopping center. But I wonder if they realize the irony of the situation. On one end of campus, their contractor, Simon Properties, is threatening to have police arrest a reporter for simply doing his job. On the other end of campus, they have a communications school where they teach reporters how to do their jobs.
•••
Olympics mistake
Why is the United States participating in the Beijing Olympics given China's horrifying record on human rights? It's too late to withdraw from next month's games, but the U.S. ought to tell the International Olympic Committee that this is the last time we participate in any olympics held in a totalitarian country.
In March, the U.S. State Department declared China is committing "genocide and crimes against humanity" in detention camps holding 1 million Muslim Uighurs. They're subject to forced sterilization, rape, torture, forced labor and "draconian restrictions" on their freedom of religion, expression and movement, according to the State Department.
We shouldn't be in a country that does that. The Biden administration's "diplomatic boycott," in which the U.S. doesn't send bureaucrats to Beijing for the games, seems like a timid, milquetoast reaction.
Going forward, we should tell the IOC that if it returns to China or Russia or any similar country, the U.S. won't participate.
A better solution would be to set up permanent sites for all future games. Host cities often lose money building Olympic venues. Let's solve that problem at the same time as we stand up for human rights. Have Athens become the permanent home of the Summer Games and locate the winter games in Switzerland, Norway or Canada — countries where there aren't any problems with human rights.
Editor Dave Price's column appears on Mondays. His email address is price@padailypost.com.