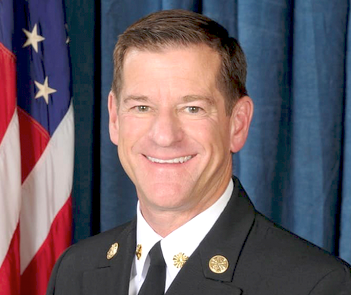 BY EMILY MIBACH
Daily Post Staff Writer
Aug. 18, 2022
Menlo Park Fire Protection District Chief Mark Lorenzen told the board of directors, his bosses, that he plans to take "no position" on a ballot initiative that could delay the district's plans to rebuild its aging station on Middlefield Road.
The ballot measure, called Menlo Balance, is aimed at blocking apartments from being built in neighborhoods of single-family homes. However, it would also block the rezoning of any single-family areas without another ballot measure.
Menlo Park residents Nicole Chessari and Tim Yaeger spearheaded a petition drive in April and May that obtained the 2,000 signatures needed to put the measure on the November ballot.
The land that Fire Station 1 sits on is zoned as single-family housing, and is currently a "nonconforming" use under that zoning designation. So if the district wants to rebuild the station, which first opened in 1955, and add a new training facility, the district would have to put the issue to the voters, Lorenzen said.
The board at its Tuesday night (Aug. 16) meeting discussed how the district would handle going through the city's process and presenting the plan to residents.
Board member Rob Silano pointed out that it had taken the district about seven years before Station 6 in downtown Menlo Park was approved by the city. Silano suggested that if all it takes to get the project approved is to go to the voters, it may be faster to put the project on a future ballot.
But board member Robert Jones pointed out that it's possible the district will have to deal with both the voters and the city's planning department in order to get everything it needs to build the new Station 1.
That's because the language of the ballot measure doesn't say when the city will play a part in the development process.