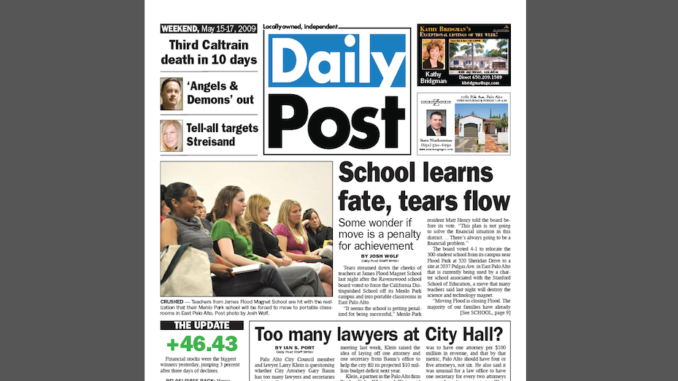 BY EMILY MIBACH
Daily Post Staff Writer
The governor has signed a bill that could open the doors for the Ravenswood School District to build teacher housing on the former Flood School site even if a Menlo Park ballot measure aimed at stopping is passed by voters.
The bill, AB2295, allows school districts and community colleges to build housing on school property so long as the developments meet local zoning standards for things like height.
Proponents of Measure V, who have been accused of trying to stop the construction of apartments on the former Flood School site at 321 Sheridan Drive, say that the passing of the bill "dramatically changes the landscape" of the election.
The proponents of Measure V say the signing of AB2295 allows Ravenswood to build 78 units at Flood School without a zoning change. In an email, Nicole Chessari, one of the main proponents of the measure, said AB2295 codifies what her group wants to see at Flood School — priority housing for teachers.
Chessari also said that AB2295 would allow the housing to be offered to Menlo Park City School District employees and to local public employees before being offered to the general public.
Dispute over whether teachers will live there
Proponents of Measure V have said one of their problems with the Ravenswood City School District's plan for Flood School doesn't require that school district employees will actually live at the project.
Ravenswood Chief Business Officer Will Eger previously told the Post that teachers and district employees would get first priority for the units in perpetuity.
Eger said yesterday that the district supported AB2295. He said that while they are thrilled the governor signed the bill, the school district is "working to understand the full implications of the bill."
The bill doesn't go into effect until 2024, so the district has time to figure out its implications.
While this bill changes the landscape of the Measure V campaign, as opponents have said the measure will kill teacher housing, this bill could benefit other school districts looking to build housing.
Statewide implications
This bill comes as school districts across the state, and the nation, are seeing a steady decline in enrollment, which while it began before the pandemic, was exacerbated by parents pulling their children out of public schools for a litany of reasons.
A CalMatters report says the state saw 110,000 students pulled from public schools in the state between the 2020-2021 school year and the 2021-2022 school year, following a steady decline that's occurred at public schools since 2014.
This enrollment decline is leading to districts closing schools, such as when Oakland's School Board voted to close schools earlier this year. The bill opens up the ability for school districts to use the shuttered schools for housing.