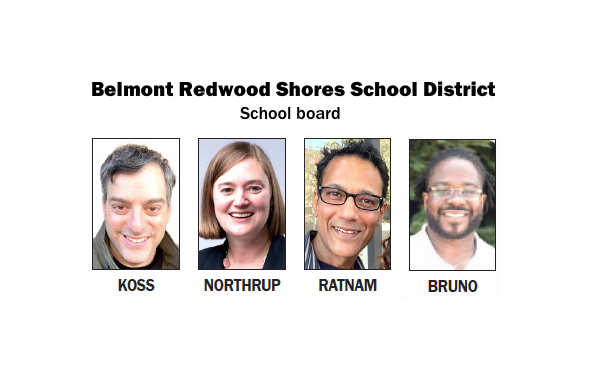 Sept. 29, 2022
BY EMILY MIBACH
Daily Post Staff Writer
The leadership of the Belmont-Redwood Shores School District is in the midst of turnover. Three incumbents are leaving the five-member school board, and four fresh faces are running to replace them in November's election.
Two incumbents, Amy Koo and Suvarna Bhopale, decided to run seat on the Sequoia Union High School District's Board. A third incumbent, Rahila Passi, is opting not to run again.
Running are David Koss, Jackee Bruno, April Northrup and Gopal Ratnam. They seek to join the five-member board which oversees seven schools in Belmont and Redwood Shores.
David Koss runs a tutoring business that specializes in test preparation, college counseling and academic support. He's currently on the Nesbit school site council, has served on the PTA and held other volunteer positions such as room parent and chaperone. He has two children who attend Nesbit School.
Koss says he is running because he realized during the pandemic how important it is to "have a voice in your child's education and to be aware of the issues impacting that education."
He points out that the next few years are going to be "crucial" for public schools, where issues such as curriculum development, health policy, school safety, teacher shortages and decreasing enrollment demands someone "like me, with a fresh perspective who can offer a moderate balanced approach, not just the status quo."
Koss, who was the only candidate to reply to the Post's candidate questionnaire, so the information on the other candidates comes from their websites and campaign literature.
Northrup is working on her master's in education at San Francisco State University, but has taught high school level social studies and second and third grades in Belmont-Redwood Shores. Northrup led the campaign for a $118 per parcel tax in June 2018, which brings in about $1.4 million annually to the district. She is also the chair of the Belmont-Redwood Shores district parcel tax oversight committee. She's also served as the PTA president at Cipriani Elementary.
Northrup says on her website that she will make sure district dollars are spent wisely on things like events so students feel like they are part of a community and making sure all students are able to learn to the best of their ability after the pandemic.
Ratnam is a tech executive at HCL Technologies, an IT Software and Services company. He lives in Redwood Shores with his wife and two daughters, one a high school freshman and another a second grader.
Ratnam was part of the team that got Measure C, a $292 per parcel tax passed in June. He has also volunteered in various tech, math and science events at the school district. Ratnam lists three core values on his website — diversity and inclusion, school safety and making sure students have a "growth mindset" meaning they realize their abilities can develop with work and natural talent is just the beginning.
Bruno is also an educator, and on his LinkedIn is listed as the Dean of Students at the Nueva School, but he worked at the Pinewood School in Los Altos Hills for 17 years, holding various positions from athletic director to the director of diversity and community. Bruno is involved at Nesbit School as the school's PTA president and was on the school's site council.