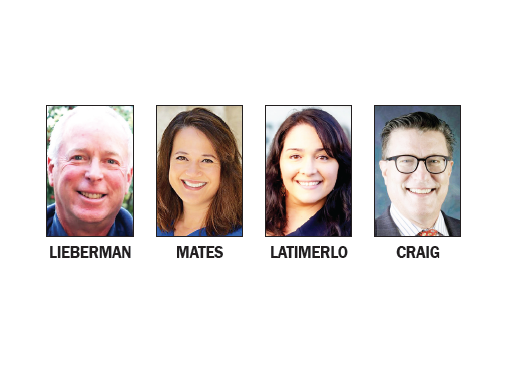 BY EMILY MIBACH
Daily Post Staff Writer
Belmont has a new election process this year and residents may see both familiar and new names on the ballot.
There are two competitive races this year in Belmont — one for the at-large mayor which will appear on every ballot in town, and the race for District 1, where two fresh faces are squaring off. There is no election in District 3, as only Robin Pang-Magnaris filed to run.
The council switched from being elected at-large, where residents can vote for all five council members, to by-district, where the city is split up into four districts and there is one at-large mayor. When it comes to voting, the mayor will be considered a council member. The city is making the switch after being threatened with a lawsuit.
Two current council members — Julia Mates and Warren Lieberman — are running for mayor.
Julia Mates
Mates is the current mayor and has been on council since 2018 and notes with her one full term under her belt "I still have a fresh perspective when tackling issues, but I have a solid experience so I am not a newcomer."
Mates is also a longtime renter and says she understands the challenges that renters in town face. She says during her current term she's worked to ensure progress on approving "responsible" development near transit in town, eased restrictions on family home remodels and worked to create a vibrant downtown, among other accomplishments. Mates' top priorities include continuing street, sidewalk and pothole repairs, crime prevention and maintaining 911 times and maintaining senior services.
Warren Lieberman
Lieberman has been on council for 17 years. He says with the city's switch to district elections, it is even more important to ensure council members from all districts work together. He says he has been praised for "enabling people with diverse viewpoints to work together toward successful outcomes."
Lieberman has many accomplishments over his years on council, including representing Belmont to ensure the town's fire department is fully operational and recently, leading the council to agree to remove parts of town from consideration for allowing possible marijuana businesses to be allowed.
Lieberman has long served on the board for Silicon Valley Clean Water, an agency that treats the sewage from Menlo Park's West Bay Sanitary District, Redwood City, Belmont and San Carlos. While on that board, Lieberman and the other board members decided not to disclose to the public that the district had paid $1.8 million in settlements in a sexual harassment case. The Post had to go to court to obtain documents in the case that Lieberman and his colleagues on the board wouldn't release.
His top priority would be to improve the way the council debates and incorporates resident input. This includes further improving outreach to residents.
Planning Commissioner Gina Latimerlo and community member Michael Craig are running for District 1. The district includes El Camino Real, the Sterling Downs and Hillview neighborhoods and the area east of Highway 101.
Gina Latimerlo
Latimerlo is a singing instructor and current planning commissioner. She's lived in Belmont for 25 years and attended Notre Dame de Namur. She was president of the Homeview's neighborhood group from 2009-2019 and is a small business owner.
Her top two priorities if elected include staying ahead of the curve of new development that are headed to District 1. She wants to make sure residents feel heard and for city departments and school districts to be well-coordinated so the city gets the infrastructure it needs before the building is done. Her other priority is to "create pipelines to leadership" for "the voices that are often unheard — women, black and brown folks and folks from our district."
Michael Craig
Craig is a business to business salesman in banking and real estate. He has also worked as a para-educator in the Belmont-Redwood Shores school district, helping students with disabilities. He has lived in Belmont since 2005. He says supporters, which include Lieberman have told him they want to see change and not just rubber-stamping policies not everyone agrees with. He also says with his real estate background, he understands what impacts real estate values.
Craig's goals if elected include "thoughtful growth" including zoning for housing west of El Camino Real, and along bus lines. He wants to make council be more transparent about potential zoning changes and not just doing the bare minimum.