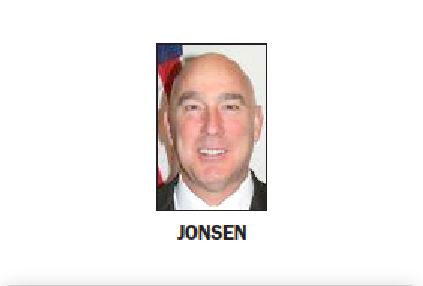 BY BRADEN CARTWRIGHT
Daily Post Staff Writer
Palo Alto police Chief Bob Jonsen drew parallels between his last four years in Palo Alto and what would happen if he gets elected as the next Santa Clara County Sheriff.
Jonsen said the culture is changing in Palo Alto as officers naturally leave, and new recruits fill their shoes.
"They come in with eyes wide open," he said. "I don't have to change them." That would happen if he gets elected, he said: Some people will buy into a new direction, and others will leave because they don't want to be held accountable.
Jonsen said a good metric to measure accountability is the money paid out in use-of-force cases. Palo Alto has paid under $1 million, while Santa Clara County has paid over $20 million in recent years.
There have been three significant use-of-force incidents in Palo Alto in Jonsen's four-year tenure, he said.
• Officer Wayne Benitez slammed a handcuffed man into a car hood at Buena Vista Mobile Home Park in February 2018.
• Officer Thomas DeStefano threw a man to the ground, breaking bones in his face, outside Happy Donuts in July 2019.
• Agent Nick Enberg ordered his dog to bite a man sleeping innocently in a backyard in Mountain View in June 2020.
Benitez was charged with assault, and the victim received a $572,000 settlement. A lawsuit over DeStefano's takedown is pending, and the dog bite incident resulted in a $135,000 settlement. Body camera footage has been crucial in keeping these settlements well below the initial claim amount, Jonsen said.
Santa Clara County has paid out three settlements to the relatives of mentally ill inmates who were killed or injured in jail: Michael Tyree's family got $3.6 million, Andrew Hogan's family got $10 million and Martin Nunez's family got $7 million.
Accountability and reduced settlements
"The reason I'm such an advocate for accountability measures is because at the end of the day, I do see and have felt that they do lead to smaller settlements," Jonsen said "I'm not happy that we have force incidents, but I am a realist that it's part of the profession."
Jonsen, who has worked in law enforcement for 35 years, said he saw the problems at the sheriff's office, and nobody was stepping up to take the role within the organization.
"Why not me?" he said. "My background is very well suited for this particular position. And the reason I say that is because — well, you have the candidate list — I'm the only one that's ran an organization."
Jonsen spent 27 years with the Los Angeles Sheriff's Office and five years as the chief Menlo Park. He stands proudly by his record, even though he acknowledged progress is slow sometimes.
Jonsen said he wishes he alerted the public before he encrypted police radios in January 2021.
Jonsen said he would offer contracted police services to more cites. The sheriff's office currently does patrol for Cupertino, Saratoga and Los Altos Hills, and Jonsen said he has heard that those cities are happy with their deputies. It saves the cities money on overhead costs and infrastructure, so he would make it available to anyone that wants it.
Jonsen said he wants to offer apprenticeships for green projects like solar and building retrofits in the jail. Inmates would be offered classes on day one, not just before they get out, he said.
Zero bail is creating a "revolving door" at the jail, and burglars are getting more brazen with property crimes because they know they'll get out, Jonsen said.
Supports use of police dogs
Jonsen supports using police dogs to bite people because he said they distract suspects and stop officers from using lethal force.
Jonsen said he would meet one-on-one with employees in the jail.
He would change the way concealed carry weapons permits are issued. Current Sheriff Laurie Smith allegedly could be bribed for a permit. Jonsen said he would require applicants to get a psychological evaluation, 24 hours of training and practice at a gun range once or twice a year. If someone meets all of the criteria, he would issue the permit.
Santa Clara County is electing a new sheriff for the first time since 1998. Jonsen is facing off against four other candidates in the June 7 primary: retired sheriff's Capt. Kevin Jensen, businesswoman Anh Colton, and two correctional sergeants, Christine Nagaye and Sean Allen.