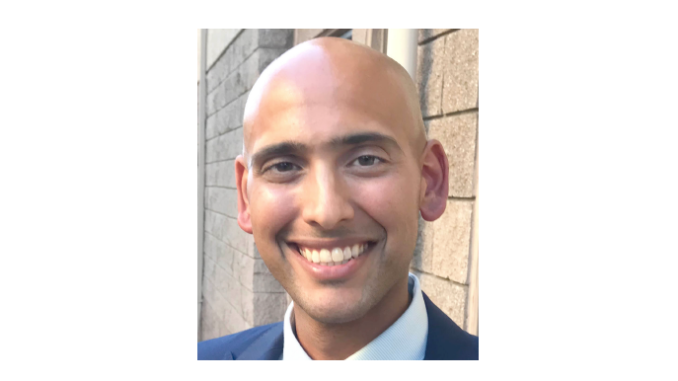 BY BRADEN CARTWRIGHT
Daily Post Staff Writer
Palo Alto school board member Shounak Dharap says the role of public schools is to serve all students, and some students won't be challenged and could be bored.
The goal is to have every student at the Palo Alto Unified School District ready for a career or college when they graduate, he said.
"What that means is not that we need to tailor curriculum to serve each and every student, because that would make us a private school," he said. "But rather that we need to be building a better floor, so every student meets some minimum standards of achievement."
There is a debate in California over whether algebra should be offered to eighth graders or starting in high school.
Dharap is one of four candidates running for two seats along with Nicole Chiu-Wang, Shana Segal and Ingrid Campos. Dharap has endorsed Chiu-Wang, who is also an attorney and has kids who are about to enter the district. The Post is printing profiles of all four candidates before ballots are mailed to voters on Oct. 1O.
Dharap, 32, said in an interview yesterday that he would follow recommendations from the state and district employees to teach algebra later.
"It's not that those parents who are pushing for a more advanced algebra at a lower grade don't have legitimate concerns," he said. "But does that mean we have to systematically change our curriculum based on their needs? I would say no."
Dharap said he is running because he wants to see through his accomplishments from his first four-year term. His daughter would start in kindergarten toward the end of his second term, and his second daughter is due on Election Day.
Dharap said the board had three big accomplishments in his first term.
The first was approving a student achievement plan that allows the board and the public to provide oversight of how schools are doing — something the district hasn't had before.
"That plan provides with us very specific goals tied to very specific people in the district on very specific timelines," he said.
The second is allocating $16 million in June to hire 16 therapists at each elementary, middle and high school.
The district had previously contracted mental health support to outside organizations, but having therapists be employed by the district will keep them on campus full time. Students already have more consistent access, Dharap said.
Dharap's said his third accomplishment is having reading scores go up for third graders last year, particularly those in groups that the district was focusing on, such as kids who are learning English or who come from poorer families.
The Palo Alto Unified School District is in a better place than it was four years ago, despite the pandemic, Dharap said.
Dharap talked a couple of controversies from last year. He defended his vote to approve a curriculum that was scored a 3.1 out of 5 by teachers who tried it out. He said waiting another year could've had the same result, and teachers should've been told that they had to pick one curriculum, even if it didn't meeting their standards.
Dharap said that unlike last year, the board will get involved this year in decisions about after-school child care.
Parents got upset in May after Superintendent Don Austin took classroom space away from Palo Alto Community Child Care in favor of a new program, Right At school, because he said Right At School could offer more students reduced tuition.
Dharap said he will look at both programs and trust a committee of board members and parents who are reviewing child care before Palo Alto Community Child Care's lease ends.
Dharap said he couldn't talk about why the board fired district lawyer Komey Vishakan in August because personnel matters are confidential. But he said the announcement of her firing should've been recorded and posted online.
Dharap is a lawyer himself who represents people suing corporations and public institutions.
Dharap is in favor of giving land at the Cubberley Community Center to the city of Palo Alto. The city owns eight acres and the district owns 27. Dharap has said that the district only needs five to build an alternative high school in the future, and he wants the city to offer a land swap and do something with the district's unneeded space.
The future of Cubberley is driven by the city because the district has no unmet needs that could be addressed there.
"The status quo is fine for us, but not for the city," he said.
Dharap said he wants the district to work on another teacher housing project in addition to the complex that is going up at 231 Grant Ave., which is owned by Santa Clara County and funded by several districts.
Housing is a regional problem, and a regional housing project involving districts in Mountain View and Los Altos would be easier to sell than one that's only for Palo Alto, Dharap said.