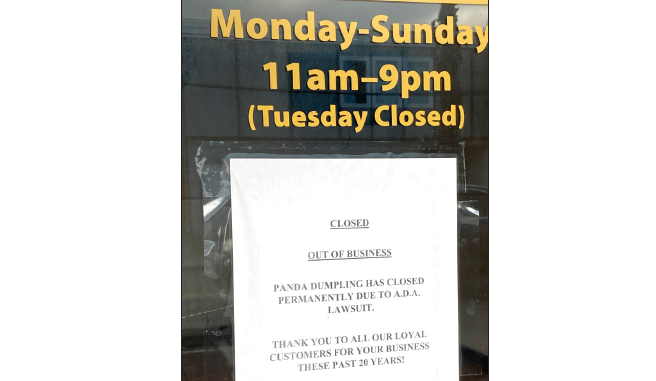 BY EMILY MIBACH
Daily Post Staff Writer
A longtime San Carlos business has shut down due to a lawsuit filed by a man who has lodged hundreds of suits seeking money under the Americans with Disabilities Act, or ADA.
Panda Dumpling at 1195 Laurel St. closed over the holidays due to a disability rights lawsuit by Scott Johnson, landlord George Peppers confirmed to the Post yesterday.
The dumpling shop had been open for 20 years, Peppers said, but it wasn't possible to make the improvements to the building and pay anything to Johnson. This is partly because Panda Dumpling hadn't seen much business lately, Peppers said.
Peppers and the business owner, Hua Dai, decided not to respond to the lawsuit in hopes it will be dropped.
Johnson, who over the summer filed a flurry of ADA lawsuits against businesses along Laurel Street, is known statewide for filing numerous ADA lawsuits.
Tax fraud charges
Johnson is currently facing federal charges for tax fraud. He has a hearing in Sacramento regarding that case on Feb. 8 and his trial is set for April 4.
As for the lawsuit against Panda Dumpling, Johnson claims he went to the business in March and May 2021 with the "intention to avail himself of its goods or services," and to see if the business complies with disability access laws.
Johnson said in his lawsuit that Panda Dumpling's counters were too high, there were no grab bars in the toilet stall, and he was unable to get his wheelchair to fit under a table.
Other businesses on Laurel Street are hurting due to Johnson's lawsuits. Nabeeh Shamieh, whose parents own Big Lou's Liquors at 1117 Laurel St., said his "heart sank" when he heard about Johnson's lawsuit against their shop.
The liquor store had to install a shorter counter and move a large cabinet with wine in it in order to make it accessible to those in wheelchairs.
Amy Buckmaster, Redwood City-San Mateo County Chamber of Commerce CEO, said her group and other chambers of commerce have been monitoring the lawsuits filed against local businesses and have referred business owners to local attorneys.
Panda Dumpling is far from the only restaurant on the Peninsula to shut down due to one of Johnson's lawsuits. In April 2019, Jason Kwan had to shut down Jason's Cafe in Menlo Park after he was hit with three ADA suits, one of them being from Johnson.
Previous Daily Post stories on ADA lawsuits
Aug. 21, 2021 — Serial ADA plaintiff targets restaurants with tables outdoors
July 13, 2020 — Judge quickly stops frequent ADA plaintiff from suing three local businesses
May 28, 2019 — Frequent ADA plaintiff Scott Johnson indicted for tax fraud
May 1, 2019 — Cafe closes after third ADA lawsuit
March 22, 2019 — Frequent ADA plaintiff hits another business
Feb. 5, 2019 — ADA lawyer goes after Nazareth Ice Oasis
July 17, 2018 — Frequent ADA plaintiff Scott Johnson goes after more targets
July 11, 2018 — Frequent ADA litigant sues Palo Alto motel
July 12, 2018 — Family business speaks out after two ADA lawsuits
May 21, 2018 — Gas station, hotel are latest local targets of frequent ADA litigant
May 9, 2018 — Serial ADA litigant sues Jeffrey's Hamburgers
Dec. 19, 2017 — ADA litigant sues Chef Kwan's, city of Menlo Park; She's filed 37 suits in 30 months