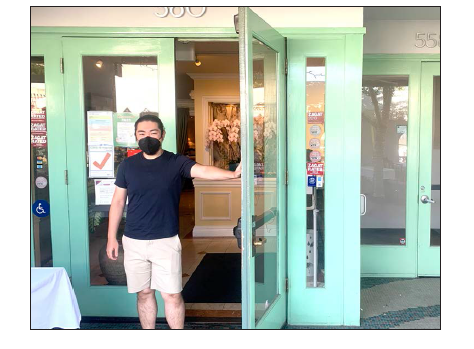 This story first appeared in the Aug. 5 print edition of the Daily Post. To get local news first, pick up the Daily Post in the mornings at 1,000 Mid-Peninsula locations.
BY BRADEN CARTWRIGHT
Daily Post Staff Writer
A plaintiff who has filed thousands of lawsuits under the Americans with Disabilities Act is capitalizing on local restaurants that have moved outdoors by claiming their tables are inaccessible and seeking financial damages.
The lawsuits come at an inopportune time for struggling restaurants, which are likely to settle for thousands of dollars.
Scott Johnson, a quadriplegic attorney who has filed more than 1,500 ADA lawsuits in Northern California this year, has sued dozens of restaurants in the mid-Peninsula.
His lawsuits, filed by the San Diego-based law firm Potter Handy, follow a similar template. They claim that Johnson visited the restaurants twice in April and once in June, motivated in part to determine if they comply with disability access laws. He claims the restaurants failed to provide wheelchair-accessible outside dining surfaces. The tables lacked sufficient knee and toe clearances and some were too high, preventing Johnson from accessing the services that others could.
The vast majority of lawsuits are settled for roughly $10,000 because it is the cheapest option for the businesses if there are in fact violations. Some businesses have closed after they were sued.
"There are two kinds of businesses: those who have been sued, and those who are about to be sued, if you haven't brought your business into compliance," attorney Martin Orlick said at a town hall meeting on ADA lawsuits hosted by the Mountain View Chamber of Commerce last week.
Johnson is the most prolific ADA plaintiff in the country, Orlick said. He files about 100 lawsuits a month.
Tax fraud charges
Johnson was indicted for tax fraud in 2019, but that hasn't stopped him. The Department of Justice claimed he underreported the taxable income he received from lawsuit settlements and awards. A trial is scheduled for April 2022.
Calls and emails to Johnson and Potter Handy were not returned.
The ADA requires at least 5% of seating to be accessible for people with disabilities. The code can be enforced by private citizens, and usually enforced primarily by a few specialized law firms that represent a small section of the disabled community.
During the pandemic, restaurants are more vulnerable to violations because they've re-arranged their layout and added outdoors seating.
Business owners question whether Johnson ever visited them, and they are upset by the surprise suits.
Did Johnson even visit the restaurant?
Tony Han, who has owned Tai Pan in downtown Palo Alto with his family since 2008, was served last week. He said his restaurant employees would gladly accommodate any disabled guest, but he isn't convinced that Johnson ever visited. He said he is worried about his other restaurants being served and that his insurance won't cover the costs.
"Individually, we're powerless against this," Han said.
He is hoping to persuade Palo Alto to step in with financial assistance or legal representation, because the city has shown support for small businesses during the pandemic.
If not, he will try to organize restaurant owners with a shared attorney.
"The lawsuits are devastating," said Realtor Sam Arsan, who manages three properties that have been sued. "A lot of these smaller businesses don't have a lot of resources, and with Covid it's even worse…to some extent, it's extortion."
Usually, letters from opposing law firms accompany the lawsuits, with promises to save restaurants money.
Ken Van Vleck, a Mountain View lawyer, said most of these lawsuits are not frivolous, and the ADA violations should be addressed.
"Almost certainly the things that are listed in the lawsuit probably have some merit to them, and you need to make those changes and deal with the lawsuit," he said.
He recommended hiring a certified access specialist to ensure businesses are compliant.
ADA lawyers have also struck San Francisco's Chinatown, and Mayor London Breed has pledged $500,000 to help bring merchants up to code.