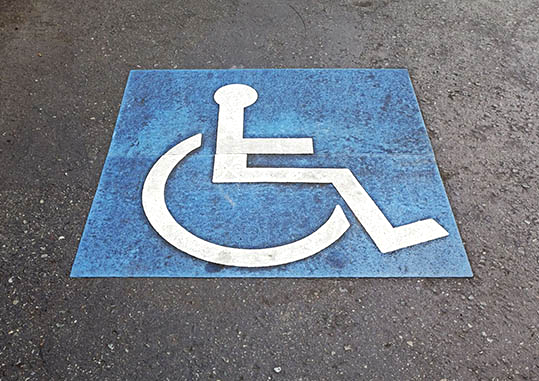 BY EMILY MIBACH
Daily Post Staff Writer
A popular Chinese restaurant and the city of Menlo Park have been hit with a lawsuit from a serial Americans with Disabilities Act litigant, who says the bathrooms and tables at the restaurant, along with the city's parking lot, are not up to snuff.
Chef Kwan's, formerly Su Hong, at 630 Menlo Ave. in Menlo Park, is the most recent restaurant to be sued by Ronny-Marie Wilson, a Sunnyvale resident who uses a wheelchair. Since June 2015, Wilson has sued 37 businesses in the Bay Area.
Wilson's lawsuit filed in federal court on Thursday (Dec. 14) claims that during her three visits to Chef Kwan's between May and December 2016, she experienced a denial of her "full and equal access to the programs, services and activities offered to the public."
On May 21, 2016, and Dec. 21, 2016, she tried to enter through the back door, which was propped open, but not far enough so she could get through, she claims. So Wilson said she had to push the door open, which was "difficult because the door was heavy."
She claims she couldn't find a table where there was enough space so she could dine comfortably.
Toilet complaint
The lawsuit also cities other problems — heavy bathroom doors, high counters and a toilet flusher on the side of the toilet. She said she "had to reach around the toilet from her wheelchair" to flush.
Wilson said the city's parking lot, next to the restaurant, didn't have any handicapped spaces close enough to the restaurant. She said she had to park in another lot and travel "a long distance" over an uneven sidewalk or through the parking lot, where she was afraid of being hit.
Owner of Chef Kwan's, Jason Kwan, said he has not received any complaints about the accessibility at the restaurant.
Kwan said that as far as he is aware everything at the restaurant is ADA compliant and he's made sure there is space for people in wheelchairs to get around.
Money grab suspected
Kwan said the lawsuit sounded like a money grab.
Wilson is represented by Tanya Moore, a San Jose lawyer whose firm, Mission Law Firm, files ADA lawsuits on behalf of at least 11 different plaintiffs, including Wilson, according to Sacramento lawyer Rick Morin, who specializes in defending business owners from "predatory ADA plaintiffs."
Morin said on his website that the Mission Law Firm filed more than 170 ADA cases last year.
In 2015, 70% of the ADA suits filed in California were brought by just six law firms, according to the Northern California Record, a website funded by the U.S. Chamber Institute for Legal Reform.
Other restaurants sued
Wilson isn't the only serial ADA litigant hitting restaurants in San Mateo County. The Fish Market in San Mateo, the Dutch Goose in Menlo Park and the Canyon Inn in Redwood City have all been sued by Gerardo Hernandez, and Francisca Moralez sued City Pub in Redwood City earlier this year.
Targets of Wilson's previous lawsuits include 7-Eleven, Trader Joe's, Dollar Tree Stores, Cook's Seafood, Red Robin International, Bed Bath & Beyond, Yamashita Restaurant and Subway.
The lawsuit is 4:2017-cv-07111.