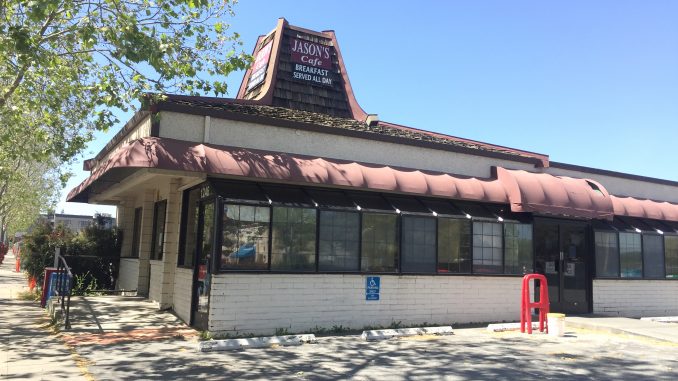 BY EMILY MIBACH
Daily Post Staff Writer
Jason's Cafe in Menlo Park closed yesterday (April 30) after 11 years in business after the cafe was hit with three Americans with Disabilities lawsuits.
Owner Jason Kwan said the lawsuits focused on different parts of the restaurant that were not accessible, and after the third suit was filed in federal court last month, he decided to close.
"We can't handle it," Kwan said. "I'm really upset about it. I've been there for 11 years, and we have good customers. We love our customers."
Kwan added that with each lawsuit, he must pay for the renovations, for his attorney and attorney's fees of the plaintiffs.
Frequent litigants
Two of the lawsuits against Kwan and the cafe were filed by serial ADA litigants — Scott Johnson, who sued six El Camino Real hotels and restaurants in Palo Alto and Mountain View in April 2018, and Gerardo Hernandez, who sued the Dutch Goose, the Fish Market in San Mateo, Canada College and the Canyon Inn in Redwood City, among many others. The third suit against Kwan's could not be located yesterday.
Johnson's suit, filed on Aug. 30, claimed that the cafe's parking lot was not up to snuff, that there were disabled signs in the lot, but the painted lines for the parking stall and the accompanying access aisle had faded and were difficult to see, if not completely gone.
Johnson's suit also alleged that the front door to the building at 1246 El Camino Real was too heavy.
Another lawsuit was filed around the same time, before Kwan could even arrange for changes to be made to the restaurant and the parking lot.
Hernandez's lawsuit claims that the bathroom door at the restaurant is too narrow for a wheelchair to get through. Hernandez also says the bathroom, had he gotten in, would have been too small for him to move around in his wheelchair.
Targeting older buildings
Kwan said part of the problem with the Jason's Cafe building is that it is 40 or 50 years old, built far before the ADA. Kwan also said it seems like the serial ADA litigants file suits against older restaurants or those in older buildings because they may not be up to code.
"They keep going to the old restaurants and suing. It's easy money," Kwan said.
Kwan also owns J&J Hawaiian BBQ at 1170 Alma St., Chef Kwan's (formerly Su Hong) at 630 Menlo Ave., and Yum Cha Palace at 1039 El Camino, next door to Chef Kwan's.
Chef Kwan's was the subject of an ADA lawsuit filed in December 2017 by another litigant, Ronny-Marie Wilson. Chef Kwan's has now been renovated, and Kwan said his new restaurant, Yum Cha, ought to be up to code.