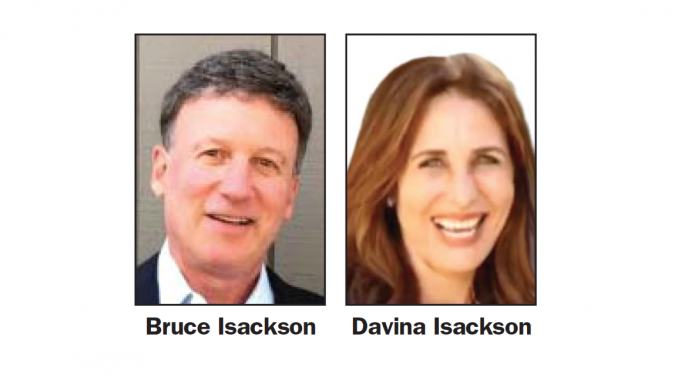 A Hillsborough couple today (May 1) became the first parents to plead guilty in federal court in Boston to charges in a college admissions cheating scheme.
Bruce Isackson, 62, and Davina Isackson, 55, admitted to paying a consultant $600,000 in bribes to have their two daughters fraudulently admitted to colleges as athletic recruits and to have test scores improved for their younger daughter.
Both parents pleaded guilty to one count of conspiring to commit mail fraud and honest services mail fraud.
Bruce Isackson, who was at one time the president of a Woodside real estate firm, also pleaded guilty to one count of money laundering conspiracy and one count of conspiring to defraud the U.S. Internal Revenue Service by claiming tax deductions for the bribes.
According to the charges to which they pleaded guilty, the Isacksons paid $250,000 in Facebook stock to have their older daughter recruited as a soccer player by UCLA in 2016.
They paid $350,000 in other stock to have their younger daughter's test scores corrected and to have her recruited as a crew athlete by the USC in 2018.
The Isacksons said in a statement when their plea agreement was announced last month, "No words can express how profoundly sorry we are for what we have done."
Twelve other parents, including actress Felicity Huffman, have agreed to plead guilty at various dates this month. Nineteen others, including actress Lori Loughlin, are facing an indictment and have either pleaded not guilty or challenged the charges.
The Isacksons will be sentenced by U.S. District Judge Patti Saris on July 31.
The sentences will be up to the judge, but prosecutors agreed to recommend prison terms on the low end of sentencing guidelines, which would be a little more than three years for Bruce Isackson and slightly above two years for Davina Isackson.
In addition, both Isacksons signed cooperation agreements with the U.S. Attorney's Office in Boston last month. The agreements say that if the defendants provide "substantial assistance" in the investigation, prosecutors may recommend prison terms below the sentencing guidelines.
— Bay City News