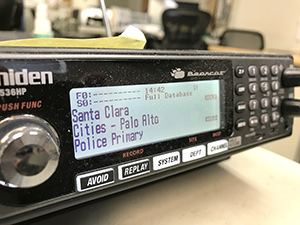 BY ELAINE GOODMAN
Daily Post Correspondent
In the months before the California Department of Justice issued a bulletin that prompted many police departments in the state to encrypt their radio transmissions, there was a flurry of correspondence at DOJ about encryption, the department said.
From June 1 to Oct. 13 of last year, DOJ had more than 20,000 pieces of correspondence that were potentially related to encryption, the department said in a letter to the Post. That works out to at least 135 pieces of correspondence a day possibly related to encryption, or more than 200 a day if weekends and holidays are excluded.
The information from the DOJ came in response to a public records request from the Post, which asked for all written communications from June to mid-October last year regarding police radio encryption by law enforcement agencies in California. The DOJ views encryption as a way to protect subjects' personal information, such as drivers license numbers, as well as their criminal histories, when officers use the California Law Enforcement Telecommunications System, or CLETS.
On Oct. 12, 2020, DOJ issued a bulletin instructing law enforcement agencies to encrypt their radio transmissions or take other steps to protect the so-called personally identifiable information, also known as PII. The bulletin was issued by Joe Dominic, chief of the California Justice Information Services Division at the DOJ.
But encryption also blocks the public and the media from listening to officers' activities through police scanners.
Police radios go silent
Police departments in cities including Palo Alto, Mountain View and Los Altos have moved to full encryption of radio transmissions. As the Post reported previously, the San Francisco Police Department is leaving some transmissions unencrypted, so the public can hear some details of police activities. The Berkeley Police Department is considering a similar system.
In response to the Post's requests for correspondence related to encryption between June 1 and Oct. 13 last year, Danielle Hofmeister, staff services manager in the California Justice Information Services Division at DOJ, said the department couldn't fulfill the request because of the number of records involved.
But DOJ produced a few documents in response to another request from the Post: written correspondence received by Dominic or CLETS that Dominic considered when writing his Oct. 12 memo.
In an Oct. 13 email to Leslie McGill, executive director of the California Police Chiefs Association, Dominic said DOJ surveyed law enforcement agencies earlier in 2020 about their radio use and encryption.
"We have been working with those agencies that were found not to be in compliance," Dominic wrote.
CHP's policy
In an email correspondence that started in December 2019, Scott Howland, who at the time was chief information officer at the California Highway Patrol, said CHP used analog radios that could not be encrypted for most of its communications. The CHP's policy at that time included sending criminal history information by fax or computer, and not broadcasting it over the radio, according to Howland.
In October 2020, Chris Childs, who became CHP's chief information officer after Howland retired, told Dominic in an email that CHP had changed its policy. Details weren't immediately available.
Gene Ashton, senior radio communications technician for the city and county of San Francisco, emailed Dominic in August 2020 after hearing that the San Francisco police chief might not want to move forward with encryption.
"It is my department that performs the programming for everyone," Ashton wrote. "Am I running afoul of FBI/Ca DOJ by abiding by the chief and not encrypting their channels?"
In his response, Dominic said he had been discussing the topic with a few agencies.
"I am aware that some agencies that do not have the capability to encrypt radio communications are putting in stop gaps/mitigation to eliminate transmitting any PII over radio unless it is an emergency/officer safety need," Dominic said.
Colorado's solution
The issue of police radio encryption is playing out across the country. In Colorado, Gov. Jared Polis this month signed into a law House Bill 21-1250, a police accountability bill that includes provisions regarding radio encryption.
Under the new law, a law enforcement agency that encrypts all of its radio communications must create a policy in which Colorado-based media outlets can access primary dispatch channels through commercially available radio receivers, scanners or other technology.
The policies may include a way to verify media credentials, "reasonable restrictions" on use of the equipment and a way to address cost.
Previous stories about the encryption of police radios
• June 16, 2017, Palo Alto to spend $4 million on new radio system; Redwood City's experience was a fiasco
• Jan. 6, 2021, Police cut off their radio transmissions to the public
• Jan. 8, 2021, Editorial, Police decision to encrypt police radio transmissions reduces transparency
• Jan. 11, 2021, Mayor says that encrypting police radio signals was a mistake
• Jan. 11, 2021, Palo Alto Council will discuss police radio encryption, Mountain View will follow Palo Alto's lead
• Feb. 14, 2021, Opinion, Encryption isn't a 'mandate,' it's a choice
• March 29, 2021, Police chief willing to consider alternatives to full encryption but lacks examples
• April 1, 2021, One city is reluctant to switch to encrypted police radio
• April 5, 2021, Palo Alto Police ask state if they can temporarily drop encryption
• May 24, 2021, San Francisco finds an alternative to full encryption of police radios
• May 27, 2021, Opinion, 55 days later and state DOJ hasn't complied with records request for information on police radio encryption
• May 27, 2021, No reports of scanners aiding crime
• July 2, 2021, Is full encryption of police radios necessary? Berkeley may allow public to hear one of their channels
• July 10, 2020, Berkeley to take a different approach than Palo Alto — public involvement