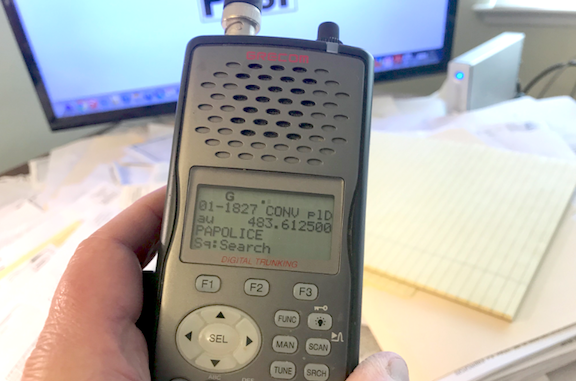 This story was originally published June 30 in the Daily Post. To get all of the local news first, pick up the Post in the mornings at 1,000 Mid-Peninsula locations.
BY ELAINE GOODMAN
Daily Post Correspondent
The Berkeley Police Department might decide to keep one of its radio channels unencrypted, meaning the public would be able to listen in to some police activities, an official said yesterday.
If Berkeley keeps a radio channel public, it would be a departure from the approach taken by Palo Alto, Mountain View and Los Altos, which fully encrypted their police radio transmissions earlier this year.
"The Berkeley Police Department is still undecided if we will encrypt BPD-1 as well; or just BPD-3 (RB-1)," Berkeley Police Capt. Kevin Schofield said in a written statement provided to the Post.
Details weren't immediately available on what information would be transmitted over BPD-1 versus BPD-3. A police department manual on the city's website described BPD-1 as a primary channel for patrol officers, and said RB-1 is used to communicate with the records center.
The question of encrypting police radio transmissions comes after the California Department of Justice in October told law enforcement agencies that they have to protect individuals' personally identifiable information and criminal justice information when using the California Law Enforcement Telecommunications System, or CLETS. Examples of information that needs protecting are a person's driver's license number, Social Security number or criminal history.
The DOJ memo, from Joe Dominic, chief of the California Justice Information Services Division, described two ways a law enforcement agency could protect the information: by encrypting radio traffic, or establishing a policy to not publicly broadcast certain types of information.
Police scanners go silent
Police departments in cities including Palo Alto, Mountain View, and Los Altos responded to the DOJ memo by going to full encryption of their radio channels. News reporters and the public can no longer tune in using police scanners to hear what officers in those cities are doing. Police scanners have been in existence for about 70 years.
But some cities are taking a different approach. As the Post reported last month, the San Francisco Police Department will partially encrypt its radio transmissions when it moves to a digital system this year.
San Francisco dispatchers will use a public channel to send officers to an incident, such as a report of a robbery at a particular location. After that, radio communications related to the incident will be encrypted and the public won't be able to listen in. But when the incident concludes, dispatchers will state on an unencrypted channel what the outcome was, for example, officers took a report or made an arrest.
San Francisco officers will check a person's driver's license information or criminal history using encrypted channels.
In Berkeley, whose police department is closer in size to that of Palo Alto, the move to encryption is complicated by a number of factors, according to information obtained by the Post through a public records request.
The department noted that Berkeley is a member of the East Bay Regional Communications System, or EBRCSA, a radio system that operates under a joint powers agreement between Alameda and Contra Costa County. EBRCSA owns and manages the digital radio system.
It could take more than two years for EBRCSA members to move to encryption. In the meantime, the Berkeley PD is taking steps to protect subjects' personal information.
Phones for confidential information?
"In the interim, we will attempt to use our MDTs, department cellular phones, or land line telecommunications to transmit and receive PII," the police department stated in a letter. An MDT is a mobile data terminal, or computer, that officers use in their patrol cars. PII refers to personal identifiable information.
In Palo Alto, Police Chief Robert Jonsen said in a January blog post that alternative methods of protecting personal information, such as using cell phones, "are not operationally practical or safe for our personnel."
In Berkeley, officers have a strategy to help protect personal information when cell phones or MDTs aren't feasible and they transmit the information over the radio. In those cases, officers will break up the personal information by transmitting details such as a person's name, birthday and address in separate transmissions, or even in different channels, Berkeley PD said in its letter.
Budget shortfalls may hamper the move to encryption, the letter said.
"Due to Covid-19, we are anticipating budget shortfalls in our projected revenue for projects such as this," the letter stated. "In addition, the community is asking to reduce our budgets."
The letter ends by referring further questions to Lt. Peter Hong. Hong did not respond to the Post's request for a telephone interview yesterday.
Previous stories about the encryption of police radios
• June 16, 2017, Palo Alto to spend $4 million on new radio system; Redwood City's experience was a fiasco
• Jan. 6, 2021, Police cut off their radio transmissions to the public
• Jan. 8, 2021, Editorial, Police decision to encrypt police radio transmissions reduces transparency
• Jan. 11, 2021, Mayor says that encrypting police radio signals was a mistake
• Jan. 11, 2021, Palo Alto Council will discuss police radio encryption, Mountain View will follow Palo Alto's lead
• Feb. 14, 2021, Opinion, Encryption isn't a 'mandate,' it's a choice
• March 29, 2021, Police chief willing to consider alternatives to full encryption but lacks examples
• April 1, 2021, One city is reluctant to switch to encrypted police radio
• April 5, 2021, Palo Alto Police ask state if they can temporarily drop encryption
• May 24, 2021, San Francisco finds an alternative to full encryption of police radios
• May 27, 2021, No reports of scanners aiding crime
• May 27, 2021, Opinion, 55 days later and state DOJ hasn't complied with records request for information on police radio encryption