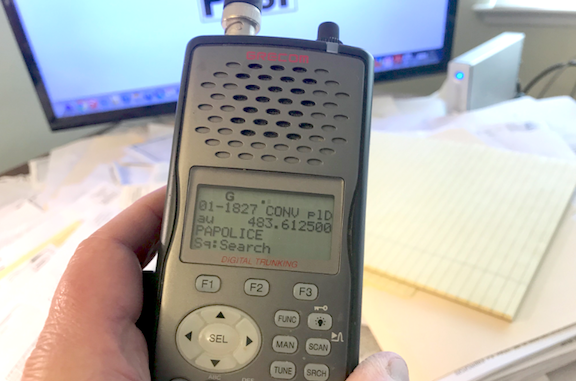 BY ELAINE GOODMAN
Daily Post Correspondent
The Berkeley Police Department's decision on whether to keep one radio channel unencrypted will "absolutely" factor in the public's and media's wishes to be able to hear police activity, a Berkeley PD lieutenant said.
As the Post reported last week, the Berkeley PD is moving toward encryption of some of its radio channels to protect individuals' personal information such as drivers license and Social Security numbers.
But the department may decide to keep one channel unencrypted, meaning the public can listen to officers' activities.
That decision would be in contrast to the approach taken by police departments in Palo Alto, Mountain View and Los Altos, which fully encrypted their radio transmissions this year without any kind of public hearings or outreach to the community.
Berkeley police Lt. Peter Hong more recently told the Post that one consideration in the department's encryption decision is maintaining public access to some radio transmissions.
"Absolutely that is a factor," Hong said. "We're in a community that wants information."
The channel that Berkeley PD might keep unencrypted is the department's channel 1, which is used for transmitting routine information, such as sending officers to a location where a robbery was reported.
Another channel, channel 3, is usually used when an officer asks for or receives information on an individual. That channel will be encrypted.
Urgent situations
The problem, according to Hong, is that personal information may sometimes go out over channel 1 in urgent situations. An example is if a dispatcher checks a vehicle license plate number and finds that the car is associated with a suspect in a felony robbery. In that case, dispatchers would want to give the officer information on the suspect right away using channel 1, rather than taking time to switch channels, Hong said.
"We have to navigate all this," Hong said. "That's why we're undecided."
The move toward encryption is in response to a California Department of Justice memo in October that told law enforcement agencies to take steps to protect individuals' personally identifiable information, also known as PII, and criminal histories when using the California Law Enforcement Telecommunications System, or CLETS.
Encryption is one way to do that. But some law enforcement agencies, such as the San Francisco Police Department, are planning to keep some transmissions unencrypted and open to the public, as the Post reported previously.
Berkeley PD's channel 3 is already protected using 40-bit encryption. But the DOJ is looking for more secure, 128-bit encryption, according to Hong.
Until the channel 3 encryption is upgraded, officers are taking steps to protect personal information.
Protecting personal information
One strategy is to break up an individual's personal information by transmitting details such as a name, birthday and address in separate transmissions, or even in different channels, Berkeley PD said in a document that the Post obtained through a public records request.
Other strategies are to use a cell phone, landline, or patrol-car computer to transmit personal information.
Budget shortfalls may hamper Berkeley PD's move to encryption, the document said. Hong said the department doesn't have a time frame for its decision on leaving a channel unencrypted.
Berkeley is part of the East Bay Regional Communications System Authority, or EBRCSA, a radio system that operates under a joint powers agreement between Alameda and Contra Costa counties. EBRCSA owns and manages the digital radio system.
Each agency that's part of EBRCSA is deciding for itself whether to encrypt its radio channels, according to EBRCSA Executive Director Tom McCarthy. The organization will support any agencies that decide to encrypt, he said.
"The agencies are creating their own policy and procedure on how to communicate the PII," McCarthy told the Post.
Previous stories about the encryption of police radios
• June 16, 2017, Palo Alto to spend $4 million on new radio system; Redwood City's experience was a fiasco
• Jan. 6, 2021, Police cut off their radio transmissions to the public
• Jan. 8, 2021, Editorial, Police decision to encrypt police radio transmissions reduces transparency
• Jan. 11, 2021, Mayor says that encrypting police radio signals was a mistake
• Jan. 11, 2021, Palo Alto Council will discuss police radio encryption, Mountain View will follow Palo Alto's lead
• Feb. 14, 2021, Opinion, Encryption isn't a 'mandate,' it's a choice
• March 29, 2021, Police chief willing to consider alternatives to full encryption but lacks examples
• April 1, 2021, One city is reluctant to switch to encrypted police radio
• April 5, 2021, Palo Alto Police ask state if they can temporarily drop encryption
• May 24, 2021, San Francisco finds an alternative to full encryption of police radios
• May 27, 2021, Opinion, 55 days later and state DOJ hasn't complied with records request for information on police radio encryption
• May 27, 2021, No reports of scanners aiding crime
• July 2, 2021, Is full encryption of police radios necessary? Berkeley may allow public to hear one of their channels