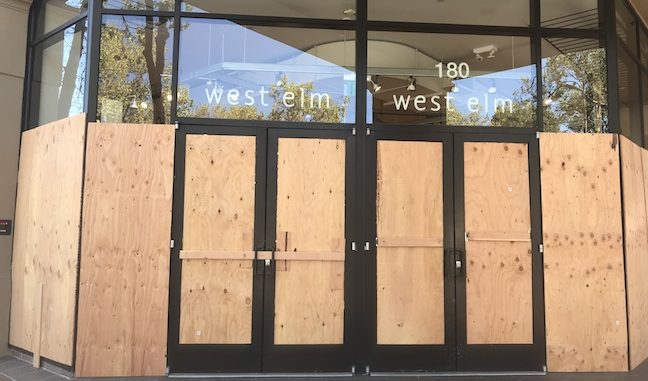 BY SARA TABIN
Daily Post Staff Writer
All the windows and doors of the West Elm furniture store in downtown Palo Alto are boarded up with plywood, a sign of the economic toll the COVID-19 outbreak has had on the community.
A half dozen businesses nearby have paper or curtains covering their windows. Others, including Starbucks and Paris Baguette, have pulled down metal grating to protect their property.
Coupled with few people on the streets and numerous empty parking spaces, the overall effect gives Palo Alto the feeling of an abandoned town.
Chop Keenan, a downtown landlord, said West Elm is probably trying to protect their inventory. He said some businesses may have covered their windows to prevent thieves from seeing their merchandise while others might be permanently closed.
Local businesses have struggled since COVID-19 began spreading through the community last month.
The virus has claimed 30 lives in Santa Clara County. There are 890 reported cases but the real number is likely higher because of a lack of testing. The county won't say how many people are hospitalized.
Everyone in the Bay Area is supposed to stay home under a state order that lasts until May 3. The people allows people to leave their homes for "essential business" like buying food or seeing a doctor. Some downtown restaurants are open for take-out, but all of the retail businesses have shut their doors.
Keenan said retail was having problems in Palo Alto before COVID-19. He blamed a lack of downtown parking and a high minimum wage for making things harder for business owners.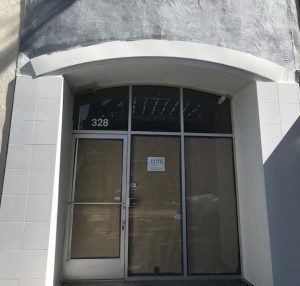 Owners of downtown eateries, including Coupa Cafe, told the Post last year that the housing shortage was making it hard to find employees.
Keenan said he is allowing many small businesses that he rents to including restaurants and hairdressers a delay in turning in April's rent because of the current economic situation. Keenan said he will decide when the money is due based on individual situations after things calm down. He said he wants to see the businesses survive.
Mayor Adrian Fine tweeted yesterday about the boarded-up West Elm.
"This boarded-up business is at the main intersection downtown @cityofpaloalto," wrote Fine. "How things change so quickly."
A Twitter user named Sean Biederman said some stores board up to prevent looting even if they are coming back.