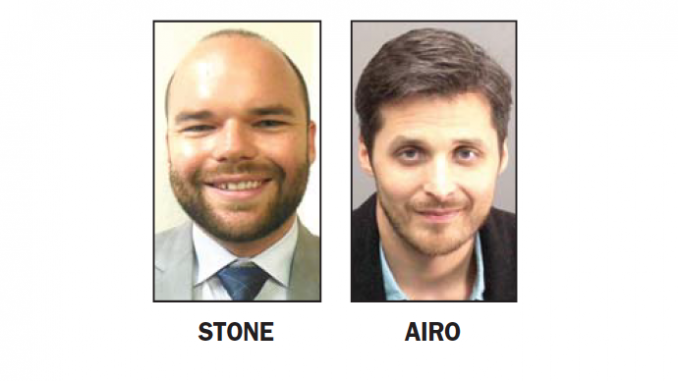 BY ALLISON LEVITSKY
Daily Post Staff Writer
Democratic Party activists Gary Kremen and Michele and Ken Dauber are calling on their colleague Greer Stone to step down from his position as a delegate to the Democratic State Central Committee, three months after he defended his convicted child molester brother as a "caretaker" and a "good man."
As the Post reported in February, Stone defended his half-brother Michael Airo in a character witness statement at a hearing where Airo was ultimately sentenced to 15 years in state prison for molesting his ex-girlfriend's preteen daughter over several years.
Airo, 37, met the girl while working as a teacher's aide at Palo Alto Community Child Care in 1999.
"As a teacher, Michael helped inspire countless students to be better versions of themselves. He went into teaching, like most of us do, to help young people," Stone told Santa Clara County Superior Court Judge Charles Wilson on Feb. 21. "Michael's efforts can still be seen today and is on display in this very courtroom right now, with so many former parents of Michael's students here to support him."
Stone, 29, serves as the vice chair of the county's Human Relations Commission.
"The crimes underlying my brother's conviction are tragic for the victim and her family. The crimes he was convicted of are appalling," Stone told the Post in an email last night. "The trial was also painful for my own family. How we now reconcile this with our own experience and family relationships is profoundly personal."
'I love my brother'
Stone said his role during the sentencing hearing was to testify honestly about his relationship with Airo and who he was as Stone knew him.
"I love my brother, and my comments were born of familial love and my observations and experience together throughout our relationship," Stone told the Post.
Recall Persky leader Michele Dauber, a Stanford law professor and appointed delegate to the Democratic Party, said that Match.com founder Gary Kremen had brought Stone's witness statement to her attention, wondering why she had endorsed him and helped him campaign.
Kremen serves on the Santa Clara Valley Water District board and was elected as a delegate to the Democratic State Central Committee alongside Stone and Ken Dauber in January.
He told the Post that Stone's statement was a hot topic among attendees at the California Democratic Party State Convention in San Francisco on Friday (May 31) night. Menlo Park Mayor Ray Mueller is the alternate delegate and would have the opportunity to take Stone's seat if he were to step down, Kremen noted.
"When you're on a Human Relations Commission, you've got to support victims," Kremen said. "It's OK to ask for, like, the mercy of the court, but you've got to focus also on the victim and apologize for what happened, number one. Number two, payback — restitution for the victim and therapy."
'Failed to acknowledge the devastation'
Stone didn't mention the victim, who is now in her 20s, during his character witness statement.
"These comments failed to acknowledge the devastation that Airo caused to his victim, and exhibit values that are inconsistent with those of the Democratic Party and of the Santa Clara County Human Relations Commission," Michele Dauber told the Post in an email. "The public deserves officials who take sexual assault seriously and who support survivors."
Dauber also objected to Stone identifying himself to Judge Wilson as the chair of the county's Justice Review Committee, a subcommittee of the Human Relations Commission, without clarifying that he was speaking as an individual. This appears to violate county policy.
Michele Dauber said that she liked Stone and was happy to endorse him in January, but after reading a court transcript of his character witness statement, decided that Stone should step aside from the Democratic Party and the Human Relations Commission.
"If your standards don't apply with equal force to your friends as well as your opponents, then they aren't standards," Michele Dauber said. "We have to hold Democrats as well as Republicans accountable for how they handle sexual violence and abuse."
Michele's husband Ken Dauber, a Palo Alto school board member, said he understood that Democratic State Central Committee delegate Jennie Richardson also wanted to see Stone step down.
"It's really just about what are the values that we expect of our public officials around issues of sexual assault," Ken Dauber told the Post last night. "I think that it would be wise for Mr. Stone to take stock of his comments and, you know, reflect on whether… he wants to rethink them, and then maybe provide a different understanding about how he wants to talk about sexual assault and the position of survivors."
'He has a good heart'
Palo Alto Vice Mayor Adrian Fine, who ran for a delegate seat in January but lost, said he thought Stone should "probably" step down.
"He probably should resign from his position, but, you know, I've talked to him and worked with him on things, and he has a good heart," Fine told the Post. "I'm not going to pile on him."
Not all delegates and Palo Alto officials agree that Stone should resign, however.
Palo Alto Councilwoman Lydia Kou said she was "reeling" from the news and broke down in tears during a phone interview with the Post, stating that the subjects of harassment and abuse brought up painful memories. Still, she defended Stone for supporting his brother.
"I guess I don't understand what the Daubers are trying to do," Kou said. "This is a brother. This is a family member, half-brother or not. And you know, the majority of women have gone through some sort of harassment or abuse. At the same time, you have to have empathy for some of the family members."
Pat Burt, a Democratic State Central Committee delegate and former Palo Alto mayor, also backed Stone. Burt, Stone and Kou have been allied on issues such as slow growth in Palo Alto.
Burt said he had discussed the outcry with a former public defender and an attorney who had worked with public defenders.
He said they were "astounded and offended" that Stone was being criticized for appropriately acting as a character witness.
"A character witness is not there to testify on their opinions or their sympathies on the trial, or the victims, or anything else," Burt told the Post. "I just have a hard time understanding why performing that proper function in our judicial system is something that is inappropriate."
Burt noted that he had spoken to other delegates at the convention in San Francisco on Friday night who shared his concerns about Kremen's and the Daubers' apparent effort to create "a whole new set of standards that have not been agreed upon, and are inconsistent with our legal norms."
"Part of what we as a Democratic Party have stood for is fairness and balance on rights of defendants, including those who are guilty of crimes," Burt said.