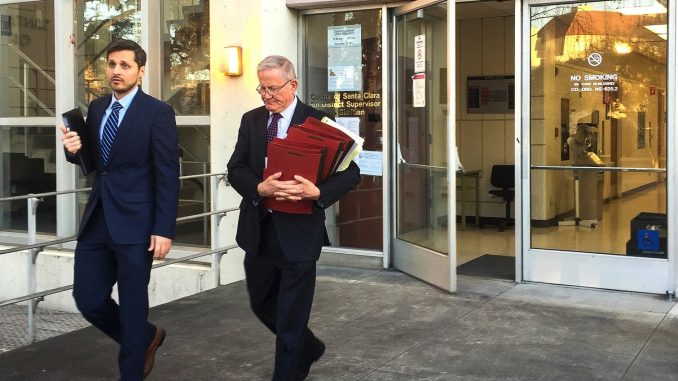 BY ALLISON LEVITSKY
Daily Post Staff Writer
A former Palo Alto elementary school teacher was sentenced today (Feb. 21) to 15 years in state prison for molesting his ex-girlfriend's daughter.
Michael Airo, 37, faced up to 40 years behind bars after he was convicted in February 2018 of the continuous sexual abuse of a child and three counts of child molestation by duress.
Santa Clara County Superior Court Judge Charles Wilson denied Airo's motion for a new trial and gave him the minimum prison sentence, despite Santa Clara County Deputy District Attorney Anne Seery's urging for 30 years.
"He violated a position of trust. He repeatedly molested her," Seery said in court. "Not once, not twice, but 72 times, this man violated a little girl. Seventy-two times this man pretending to be her father molested her."
Defense attorney Robert Beles said it was "speculation" that Airo molested the girl 72 times. Some of Airo's supporters who attended the hearing, who included relatives and parents of his former fourth- and fifth-grade students from Ohlone Elementary School, groaned at the suggestion of a 30-year sentence.
"Murderers don't get 30 years," one woman muttered before the hearing.
Airo's victim, now in her late 20s, spoke about the lifelong impact of Airo's crimes.
"The sexual and emotional abuse I endured for years have impacted my life in ways that few can understand," the woman said. "My body no longer feels like it's my own."
Airo met the girl in 1999 when he was working as a teacher's aide at Palo Alto Community Child Care, which operated at El Carmelo Elementary School. He quickly started dating her mother, who is 21 years older than him.
He assumed a father figure role
Airo later moved in with the family and began identifying as the girl's father figure, urging her to cut off all contact with her father and paternal grandparents. As a result, the girl didn't get a chance to see her dad before he died of alcoholism in 2006, she said.
The girl's last name was also changed to Airo, which she said has served as a lifelong reminder of the abuse every time she fills out a legal document that asks for prior names.
After moving in with the family, Airo's abuse turned sexual. The woman said he told her that if he was going to be her dad, she should feel comfortable changing her clothes in front of him.
Between the ages of 9 and 13, Airo would go into the bathroom when the girl was showering and kiss her naked body. The woman said she is so haunted by the memory that to this day, she opens the shower curtain from the opposite side that Airo did.
For years, the woman felt too ashamed to tell anyone about the abuse, but in 2014, she finally told a therapist, who reported it to police.
Misplaced trust
Her mother, Airo's ex-girlfriend, spoke tearfully about her immense guilt at trusting Airo to be a father figure to her children as he secretly abused her daughter.
"I cannot change the past and that I trusted someone like this with my child," Airo's ex-girlfriend said. "This will forever be part of our life story, and that makes me sad."
Airo emotionally manipulated the girl and made her feel that her sole purpose was to please him, the victim said. The abuse has damaged her ability to form healthy relationships and left her afraid to express her feelings in fear of hurting someone else's.
"The defendant designed my life so that most of my time was spent with him alone," the woman said. "The defendant did more than kiss me. He psychologically damaged me."
The woman described Airo as a "monster who stalked me every moment," wrote her overly affectionate love letters, brought her roses when she was between the ages of 12 and 14 and showed up to events and performances even when she told him not to.
He also read her text messages and used a black light to read her diary, revealing that she had used invisible ink to write about her first kiss.
Airo confronted the girl in the car when he learned that she was spending time with boys to the point where the girl, feeling trapped, cried and said she loved him and wouldn't do it again.
"The abuse trained me to be voiceless," the woman said. "It is directly because of the defendant's abuse that I now feel powerless."
Defendant finds an 'inner peace'
Airo, who has denied the crimes, didn't speak at the hearing. His younger half-brother, Santa Clara County Human Rights Commission Vice Chair Greer Stone, testified to the positive impact that Airo had had on his life and Airo's progress in improving himself since the conviction.
Airo hopes to obtain an MBA and has found an "inner peace" over the last year in Santa Clara County Jail, Stone said.
"He is, in his heart and soul, a caretaker," Stone said. "People know he is a good man."
Judge Wilson told Airo that he would have a considerable amount of time in prison to think about the effect he has had on the woman's life. The judge said he hoped Airo never found himself causing damage to anyone else's life after his release.
More than 14 months of jail time served will be credited toward Airo's prison sentence. He will have to register as a sex offender for the rest of his life and will have two months to file an appeal.