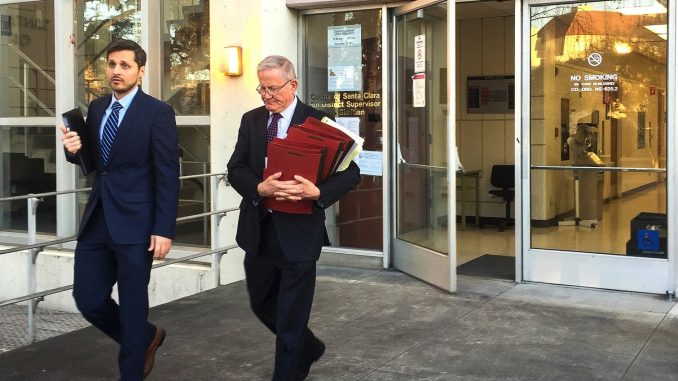 BY ALLISON LEVITSKY
Daily Post Staff Writer
A former Palo Alto elementary school teacher denied in court yesterday (Feb. 6) that he had ever acted inappropriately with his ex-girlfriend's daughter, who has accused him of molesting her for three years starting when she was 11.
Michael Airo, 36, of San Mateo, could face up to 40 years in prison for the alleged abuse between 2002 and 2005, but with no prior criminal history, he will likely receive a lighter sentence if the jury of seven women and five men finds him guilty.
Over the course of about two hours on the witness stand, Airo repeatedly denied prior testimony from his alleged victim, who told a college psychologist in 2014 that between the ages of 9 and 13, Airo would kiss her chest, stomach and bottom while she showered in their three-bedroom, one-bathroom home on Loma Verde Avenue in Palo Alto.
Her psychologist told police, and Airo turned himself in to the county jail in San Jose a week after a judge issued a warrant for his arrest on Jan. 6, 2016. Airo has been out on $500,000 bail for two years.
'A forever love'
Santa Clara County Deputy District Attorney Lindsey Walsh had Airo read to the jury a letter he wrote to the girl for her 10th birthday: "I love you the way the wind dances with the trees," the letter reads. "This isn't an ordinary love. This is a forever love."
Airo shrugged off the inscription as reflecting the fatherly love he felt for the girl. He was 20 at the time and had only known her for about a year, Walsh pointed out.
Airo described entering a May-December relationship initiated by the alleged victim's mother, who told him she had a "schoolgirl crush" on him when he was working as a teacher's aide at her daughter's daycare center, which was operated by Palo Alto Community Child Care, at El Carmelo Elementary School in 1999.
He had never dated before and had just graduated from Palo Alto High School and enrolled at Notre Dame de Namur University in Belmont. She was 21 years older with two daughters from different fathers living at a two-bedroom home on Towle Way in Palo Alto.
A Valentine's Day card
On Valentine's Day in 2002, Airo wrote on a card co-signed by the girl's mother, "May you always love me," writing her initials with "A" as her last initial. She would eventually have her last name legally changed to Airo, but Airo never adopted her before he and the girl's mother broke up in 2007.
"I was her father and I loved her, and I hoped she loved me as well," Airo offered as an explanation for the card yesterday.
Airo admitted that he and the girl would often walk hand in hand, paces ahead of her mother, when they would go out in public, and that the couple sometimes fought about Airo's unwillingness to show his girlfriend affection while out in public.
But Airo said the girl's mother walked slower than he and the girl did, and that his mother and stepfather had often walked out of pace with each other when he was growing up, so he didn't think it was inappropriate.
Airo helped to plan the girl's 16th birthday at the Lucie Stern Ballroom even after he and the girl's mother broke up and he moved out of the house, but the girl told Airo that she never wanted to see him again, which he said came as a surprise.
Defendant's roots in Palo Alto
About 90 minutes of questioning Airo on the witness stand by defense attorney Michael Armstrong revealed Airo's deep roots in the community: his mother taught at Duveneck Elementary School in Palo Alto while he was growing up between Redwood City, San Carlos, San Francisco and Boulder Creek.
He went to Taft Elementary School in Redwood City and Jordan Middle School in Palo Alto before graduating from Paly, where he played baseball, in 1999.
Airo then enrolled at Notre Dame de Namur University in Belmont while working as a teacher's aide for students ages 6 to 8 at El Carmelo. He later moved to Lucille M. Nixon Elementary School at Stanford.
Airo graduated from Notre Dame in 2005 with a bachelor's degree in biology. He worked as a personal trainer at YMCA and Google for several years starting in 2003, before later being hired as a fourth- and fifth-grade teacher at Ohlone Elementary School in Palo Alto.
Airo's younger brother, Greer Stone, is a former chair of Palo Alto's Human Relations Commission and ran for Palo Alto City Council in 2016.
His testimony will continue this morning. Attorneys in the case expect to give closing arguments on Friday.