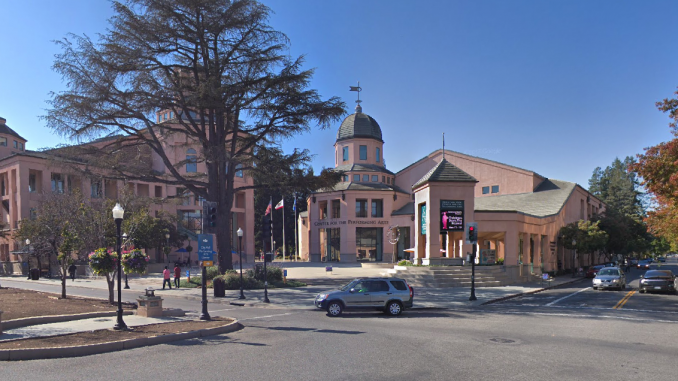 BY ALLISON LEVITSKY
Daily Post Staff Writer
A transient stabbed to death in downtown Mountain View was finally identified by the Santa Clara County medical examiner's office yesterday — three months after a former professional cyclist was arrested in connection with the killing.
Jose Ospina Jaramillo, 55, died of his injuries at Stanford Hospital hours after the Nov. 4 fight in the courtyard of the Mountain View Center for the Performing Arts at 500 Castro St., outside City Hall.
Police said that Jan Neal, 43, attacked Jaramillo with a chair and a bicycle, but no knife. The fight broke out in the evening, between two performances of "The Prince of Egypt."
Police told Neal to stop attacking Jaramillo, but he didn't respond, police said. An officer used a Taser to stop Neal, but it wasn't effective and Neal continued his attack.
Defendant was once a promising cyclist
Police eventually restrained Neal and provided aid to Jaramillo before taking him to Stanford Hospital with severe stab wounds around 6:30 p.m. Neal was also taken to a hospital.
Neal, who lived in Fairfax before his arrest but had lived in Palo Alto for years, attended Homestead High School in Cupertino. He was a promising 18-year-old cyclist when a drunken driver hit him on Feb. 18, 1993, during the Tour of Mexico.
Neal was one of two dozen cyclists who were injured by the pickup truck driver, Salome Medrano, who drove straight into the pack of cyclists who were on their fifth leg of the Mexico Tour from San Luis Potosi to Leon, Guanajuato. Seven were seriously injured.
Neal was one of two Americans who suffered serious bone fractures.
Drug abuse
Mountain View cyclists Jim Aparisi, 50, and Peggy Prendergast said Neal was crushed physically, mentally and emotionally by his injuries, leading to decades of drug use.
Court records show Neal's prior run-ins with police for violent and petty crime, including violent threats, fighting and second-degree robbery of some beef jerky.
In the robbery incident in 2012, he stood his bike up on its rear wheel with the front wheel in the air, using it as a barrier between him and the store manager at the CVS pharmacy at 352 University Ave. in downtown Palo Alto. In 2003, he completed an aggression control workshop by court order.
Aparisi rode with Neal at the Los Gatos Bicycle Racing Club, where Neal hustled to keep up with adult cyclists starting when he was 12 or 13.
In 1993, Neal rode with the Saturn Cycling Team, which was managed by Olympian cyclist Tom Schuler.
Neal is scheduled to enter a plea on March 5. Santa Clara County Superior Court Judge Sharon Chatman denied his Marsden motion to fire his court-appointed attorney.
Editor's note: The Post would like to print an obituary for Jose Ospina Jaramillo, but we have very little information about him. If you knew Jaramillo, please contact us at (650) 328-7700 or email us at [email protected].