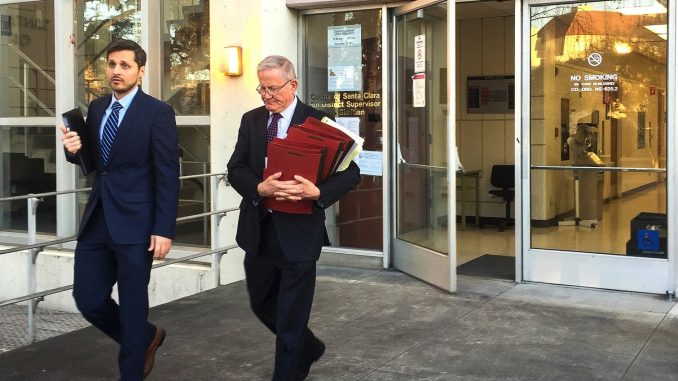 BY ALLISON LEVITSKY
Daily Post Staff Writer
A jury today (Feb. 14) found a former Palo Alto elementary school teacher guilty of molesting his ex-girlfriend's daughter for three years starting when she was 11.
Michael Airo, 36, of San Mateo, who had been out on $500,000 bail for two years before the trial, was taken to jail following the unanimous verdict. He was convicted of one count of continuous sexual abuse of a child and three counts of child molestation by duress.
He faces at least 15 years in state prison for the abuse and could theoretically be sentenced to up to 40.
Santa Clara County Superior Court Judge Allison Marston Danner set Airo's sentencing hearing for April 19.
Airo's attorney, Michael Armstrong, requested that Airo be allowed to remain out of custody until his sentencing date, but Danner insisted on Airo's immediate arrest.
"I think the seriousness of the charges outweighed everything I said," Armstrong told the Post. "The judge called us up to the bench and said, 'I'm going to remand him, but I'll listen to what you have to say'" about continuing bail until sentencing.
When asked if the #MeToo movement, the recent widespread backlash against sexual abusers in the workplace and beyond, had made it more difficult to defend accused sex offenders, Armstrong said it had.
"I don't know if there's ever been a worse time to try these cases. It's pretty bad," he said.
Airo's trial lasted five days. The jury deliberated for less than two full days before returning the verdict.
Airo was charged in 2016, two years after the victim told her college therapist that between the ages of 9 and 13, Airo would come into the bathroom when she was showering and kiss her chest, stomach and bottom.
The victim, her older half-sister and her mother — Airo's live-in ex-girlfriend, who is 21 years older than him — testified in the case.
The defense called up character witnesses including several parents of his students at Ohlone Elementary School, a school psychologist at Ohlone, a woman who Armstrong said is one of his best friends of 20 years and Airo's younger half-brother, Greer Stone.
Stone ran for Palo Alto City Council in 2016.
Airo denied the victim's testimony when he was called to the stand. Armstrong said it was Airo's decision to testify.
"I think a jury wants to hear directly from a defendant," Armstrong said. "It's more risky if the client has made prior inconsistent statements or confessed or admitted, but he never had."