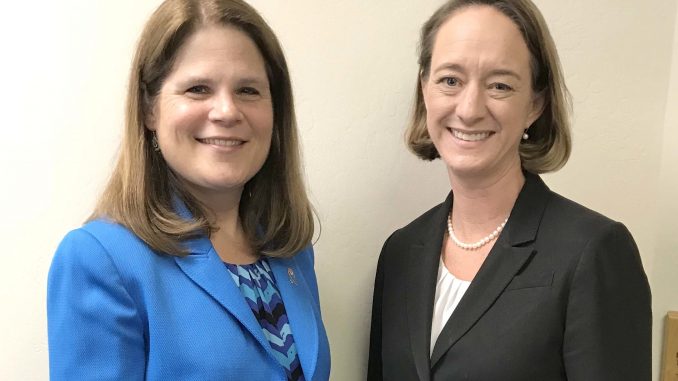 BY ALLISON LEVITSKY
Daily Post Staff Writer
Voters in Santa Clara County, take note: whether or not you vote to recall Judge Aaron Persky on June 5, you can answer the next question on the ballot of who will succeed him if the recall succeeds.
Judge hopefuls Cindy Hendrickson and Angela Storey said yesterday that they hoped to clear up the misconceptions that they won't be on the ballot until after Persky is removed from office, or that voters who oppose the recall aren't supposed to vote on Persky's successor.
"Even talking to attorneys, they're like, 'So if I vote 'no' on the recall, I don't vote on the next question.' Vote on both," Storey told the Post.
If the recall fails, Persky will remain on the bench and Storey and Hendrickson will remain in their day jobs, Hendrickson quipped. If it succeeds, Persky will step down and either Hendrickson or Storey will take his seat on the Superior Court, depending on who gets more votes.
Storey practices civil litigation at the firm Storey and Storey in San Jose with her husband, Scott Storey. She also assists with criminal law at the firm and handles some criminal defense cases.
She opposes the recall effort while Hendrickson supports it, but neither wanted to talk about the recall or the Brock Turner case that sparked it.
With regard to their legal experience, Storey said, "we're almost the opposite. She's got a huge background in criminal, I've got a background in civil with a little bit of criminal as well."
The bulk of Storey's experience is in civil litigation. She studied international economics at UCLA and graduated from the Santa Clara University School of Law in 2001.
She spent eight years as a trial attorney for Farmers Insurance, but eventually joined a 2015 class-action lawsuit against the company after salary data showed a "huge discrepancy" between men and women attorneys.
Farmers paid out $4 million to the plaintiffs, revised its review and promotion process and gave raises to its women attorneys nationwide, Storey said, citing it as one of her greatest legal accomplishments.
"I didn't have to think hard about joining (the lawsuit). My family wanted me to think hard about joining because of the legal repercussions and the personal repercussions," Storey said. "There was concern that it would be damaging personally or professionally for me, but it was absolutely the right thing to do."
Most of Hendrickson's law experience has been as a criminal prosecutor. She's an assistant district attorney in the Santa Clara County District Attorney's Office and supervised prosecutors at the Palo Alto Courthouse starting in 2011 before returning to San Jose to supervise the office's Family Violence Unit, including child abuse, elder abuse and child abduction.
Diverse family
Hendrickson grew up in Virginia in an interracial family of 13, including five adopted siblings of different racial backgrounds. Two of her siblings are LGBTQ, including one transgender sibling, she said. Watching how her life experiences differed from those of her siblings gave her perspective on the position of minorities in the U.S., she said.
Hendrickson and Storey agreed that unconscious bias against minorities is a pervasive problem in the criminal justice system, affecting the judgments of even those who don't consciously see themselves as prejudiced.
Avoiding bias
Storey said she serves as a temporary judge in the county's small claims court anywhere from once every month or two to several times a month.
In that capacity, she said she often takes a step back from the bench to question why she does or doesn't see a witness as credible, to make sure she isn't making a decision based on the way someone looks or talks.
Hendrickson, meanwhile, said she was always drawn to cases with vulnerable victims, like child abuse, domestic violence, sexual assault and elder abuse.
She graduated from Stanford University in 1987 and was a civil litigator in San Francisco for five years after graduating from the UCLA School of Law. She's been a prosecutor in Santa Clara County since 1995.
Hendrickson mentioned a criminal case that she had prosecuted as one of her proudest moments as an attorney.
A repeat con artist who continued to offend despite short stints in jail wound up stealing money from an elderly real estate agent at an open house.
"I looked at that and I thought, 'the charges that immediately come to mind do not reflect the gravity of what this person did to this victim and what this person has done to society,'" Hendrickson said. "I could charge him with residential burglary of a home that was inhabited at the time."
Hendrickson sought the more serious charge, landing a conviction that sent the man to prison on a 16-year sentence that was "more commensurate with the harm that he was inflicting on society."