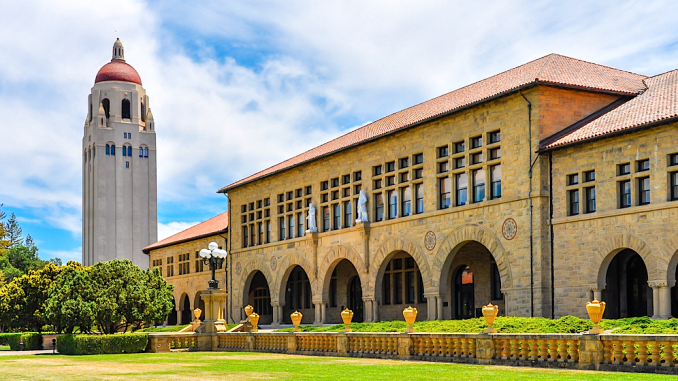 BY ALLISON LEVITSKY
Daily Post Staff Writer
A Stanford official Thursday (May 30) objected to Santa Clara County's proposal to require 70% of the university's new housing to be built on campus, claiming that most of the university's workers don't want to live at the school.
Catherine Palter, Stanford's associate vice president for land use and environmental planning, made the comments at a well-attended hearing on the university's 3.5 million-square-foot proposed expansion held by the county Planning Commission at Palo Alto City Hall.
'Full mitigation'
Public officials from Palo Alto, East Palo Alto, Redwood City, Menlo Park, San Mateo County, the Palo Alto school district and the Midpeninsula Regional Open Space District spoke, with several urging the county to secure "full mitigation" of Stanford's impacts on neighboring cities.
Midpeninsula Regional Open Space District Vice President Karen Holman suggested that rather than accepting unmitigated environmental impacts of Stanford's projects, such as worsened air quality, the county require the project be reduced until there are no unmitigated negative effects.
Former Mountain View Mayor Lenny Siegel asked that the county pile more than 70% of Stanford's new housing on campus, urging the county not to let Stanford "dump more housing on us."
The county Planning Department is proposing that Stanford build between 4,772 and 5,699 housing units and student beds, more than the 3,150 Stanford wants to build, and that 70% of them would be built on campus.
Although the university houses a "substantial" percentage of its workers, Palter said, most employees surveyed have told Stanford that they don't want to live on campus.
The other 30% would have to be built within 6 miles of Stanford, county planners are proposing.
The university has not committed to build those homes near campus, only offering to build them near public transportation.
Palter objected to the county's proposal to build 70% of the units on campus, asking whether the county would lower that number to 50%.
Escondido Village
She added that Stanford should get credit for opening 1,300 new apartments for graduate students at Escondido Village by next year.
"Moving graduate students onto campus frees up apartments in the community that can be filled by workers," Palter said. "Shouldn't Stanford receive some credit for meeting future demand through units that it was not required to build, but elected to build early?"
Palter added that Stanford is worried about bringing too many K-12 students to the Palo Alto school district and adding too much local traffic.
She said that it was "just not feasible" for Stanford to build about 1,500 new workforce housing units on the core academic campus without increasing commute trips that leave campus in the morning and return at night.
"In other words, Stanford is being asked to build about 1,500 workforce units that will add well over 2,000 adult residents to the campus, many of whom will be spouses and other household members who don't work at Stanford," Palter said. "But these new residents won't be able to use a car to make routine trips associated with any household — drive away from the campus in the morning, come home at night and run any number of errands during the day."
Limit on trips by commuters
Palter also noted that the proposal to cap all-day commute trips would limit Stanford's ability to expand its offering of events and programs that are open to the public.
In addition, Palter said the county's proposed conditions amounted to asking Stanford to "write a blank check" for its use of parks and payment for municipal services, which would discourage the university from building housing.
Palter also said the county's proposed conditions around Stanford building affordable housing were "substantially higher" than required by the ordinances that the county Board of Supervisors enacted last fall.
"Why did county staff change the board's policy direction?" Palter asked. "Shouldn't the Planning Commission be given the option to consider conditions that align with the board's ordinances?"
Development agreement
Palter went on to urge the county to reopen negotiations for a development agreement, a deal worked out between a developer and the government over public benefits in exchange for permission to grow.
Palter said Stanford wanted its expansion approved using a "three-legged stool" approach. Those legs, she said, are the mitigation measures in the county's environmental impact report, the conditions of approval and benefits that can come from a development agreement.
That agreement could include funding to the school district and front-loaded housing construction, Palter said.
Earlier this month, Board of Supervisors President Joe Simitian said that he and Vice President Cindy Chavez had told Stanford they would consider reopening negotiations for a development agreement, but only if the agreement were negotiated in public and if Stanford would uphold its $138 million funding offer to the Palo Alto school district.
Simitian said Stanford officials declined those conditions, stating they would only be willing to negotiate a development agreement behind closed doors.