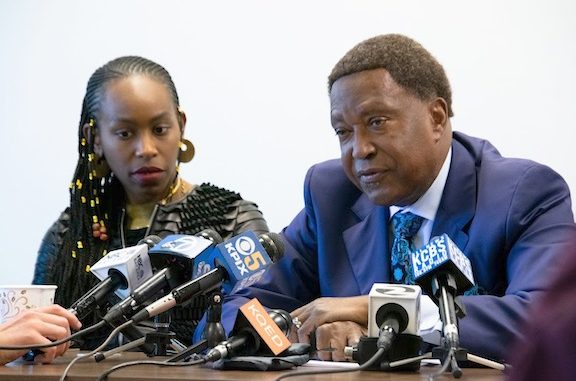 The family of Chinedu Okobi sued San Mateo County on Friday (May 31) alleging that sheriff's deputies conducted an illegal stop and used excessive force resulting in Okobi's death last October when they stopped him for jaywalking and used a Taser, batons and pepper spray.
"This was a shocking example of racial profiling and the devastation that can occur when a minor stop, an illegal stop, results in someone's death," said John Burris, an attorney for Okobi's mother, Amaka Okobi, at a news conference in Oakland to announce the lawsuit.
Separately, Los Angeles attorney Carl Douglas filed another suit on behalf of Okobi's daughter, 12-year-old Christina Okobi.
Chinedu Okobi, the 36-year-old son of Nigerian immigrants, died after sheriff's Deputy Joshua Wang attempted to stop him while he was walking in the 1400 block of El Camino Real on Oct. 3, 2018.
Video of the encounter released in March showed Okobi crossing the street to avoid Wang, who called for backup. When more deputies arrived, the confrontation quickly escalated, and Wang Tased Okobi multiple times.
San Mateo County, which has continually declined to discuss the case and did not respond to requests for comment Friday, has retained outside counsel with the firm Conrad & Metlitzky to represent it. An attorney with the firm, Warren Metlitzky, provided a written statement that read, "The county recognizes the tragic nature of this unintended loss of life, and its impact on everyone involved and on the community. The county intends to defend itself in federal court against these
claims and will not litigate the matter in the press."
District Attorney Steve Wagstaffe announced in March he would not pursue criminal charges against the five involved deputies, identified as Wang, John DeMartini, Alyssa Lorenzatti, Bryan Watt and Sgt. David Weidner.
An internal review, which would determine whether the deputies acted within department policy, is ongoing, and the sheriff's office has declined to provide a timeline for its conclusion.
San Mateo County Deputy Counsel David Silberman declined to say whether he would release the internal review at its conclusion, as required under a new transparency law that took effect in January.
The sheriff's office issued a false statement immediately after Chinedu Okobi's death, saying that Chinedu Okobi had punched a deputy before he was Tased.
Chinedu Okobi's sister, Facebook executive Ebele Okobi, wrote a long Facebook post in November after she was allowed to view video of the encounter. She accused the sheriff's office of lying, but the sheriff's office did not correct the false statement until March.
Sheriff's spokeswoman Detective Rosemerry Blankswade said at the time that the sheriff's office conducted no internal investigation and did not interview the involved deputies until after the criminal investigation was complete.
Despite that, the deputies returned to duty as of Oct. 31 and Weidner was assigned to a contentious county Board of Supervisors meeting where Chinedu Okobi's family and friends attended in protest.
Burris again reiterated that the video contradicts the version of events initially described by the sheriff's office, including that Okobi was "running in and out of traffic" as the initial justification for the stop. In the video, Okobi was walking on the sidewalk when first approached by Wang.
"Police did not have reasonable suspicion or probable cause to believe he committed a crime," Burris said. But despite the lack of justification for the initial stop, when Okobi continued walking, Wang called for backup on an emergency code.
"What was the emergency?" Burris said. "They were like a pack of wolves on him."
Burris has called for a moratorium on Taser use in San Mateo County, as Okobi's was the third death that involved the use of stun guns last year.
He said it appeared the deputies were not trained in proper use of Tasers, as Wang deployed one seven times, despite that multiple deployments of Tasers can increase the risk of cardiac arrest.
Ebele Okobi said at Friday's news conference that the decision not to prosecute "shocks the conscience."
"It should not be that a human being can be killed, can be violently killed, can be tortured to death with impunity," she said.
Ebele Okobi extensively described the pain of her family, how her mother had to watch her child "brutally executed" on video.
"Imagine being told that the life of your child doesn't matter," Ebele Okobi said, adding that if the deputies had taken similar action against a dog, more would have been done about it.
Douglas said Chinedu Okobi's daughter lives in Nashville, but that she spoke to her father regularly and he had traveled by bus to visit her last summer. Then, she had to travel back to San Mateo to attend his funeral.
— Bay City News