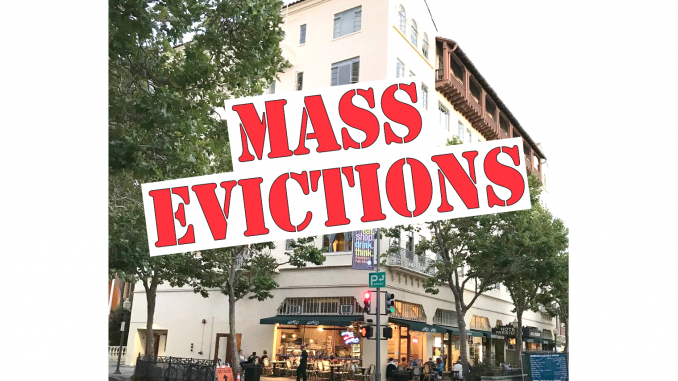 BY ALLISON LEVITSKY
Daily Post Staff Writer
Palo Alto City Attorney Molly Stump urged the residents of the Hotel President apartments at City Council last night (Aug. 20) to manage their expectations about how much the city can do to address their forthcoming mass eviction.
"We need to be realistic about what the City Council can reasonably consider," Stump said. "The property owner can hold the building vacant. It's a private contractual matter. They're leases between the tenants and the owner."
In keeping with recent council meetings, several residents of the 1929 building at 488 University Ave. attended to speak in public comment, urging council to find a way to save their homes.
The 75-unit building that rents studios for $2,000 a month was sold for $65 million in June to a Chicago-based company that wants to turn it back into a hotel, even though the city has said zoning law prohibits that conversion.
Next Monday, council will consider an urgency ordinance — a fast-track ordinance that doesn't require two hearings to become law — that would require relocation payments for tenants who are pushed out of multi-family buildings.
But the tenants of the Hotel President, who were given $3,000 by the buyer of their building in June when they were told to get out by Nov. 12, want more than moving costs.
"The reason we all spoke tonight is to ask the city to rise up yet again because there are options here besides the narrow parameters that have been suggested, and hopefully will see fit to do so," Michelle Kraus, a technology consultant who has lived at the President for 10 years, told the Post.
Tenants hire attorney
The tenants have hired an attorney from the San Francisco firm Shute Mihaly and Weinberger, but don't have plans to file a lawsuit, Kraus said.
"This is my home and I would not like to leave it," Palo Alto native and 30-year President Hotel resident Diane Boxill said. "Please protect us, beginning with the broadening of the proposed urgency ordinance."
Stump said the buyers, the Chicago hotel company Adventurous Journeys Capital, was allowed to kick out the tenants under the Ellis Act, which allows landlords to evict tenants to get out of the rental business.
Stephanie Munoz, a resident who regularly advocates for affordable housing at council, argued that the Ellis Act was written to protect small-scale landlords who wanted to take an apartment off the market to move an elderly relative in, for example, not to protect hoteliers' right to profit.
"(Cities) do not feel obliged to accommodate everybody's need to turn some piece of property into a rental just because there's a lot of money to be made," Munoz said. "It has to be very well thought out."
Previous Post stories about the Hotel President
• June 12: Hotel President to be sold, will become a hotel again
• June 14: Hotel President tenants to face eviction
• June 16: City Council members met privately with Hotel President buyers before sale closed
• June 20: Hotel President tenants ask for city help
• July 19: City blocks conversion of Hotel President, tenants catch a break
• July 22: New owners of Hotel President to fight city's determination that the building can't become a hotel again
 • Aug. 14: Hotel President tenants could get some help from the city