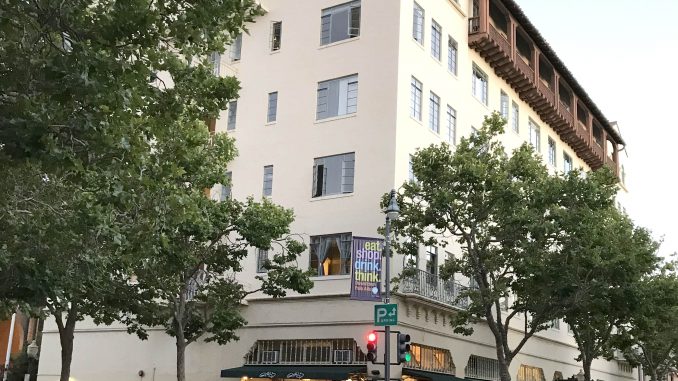 BY ALLISON LEVITSKY
Daily Post Staff Writer
A Chicago boutique hotel chain appears to be in the process of buying downtown Palo Alto's once-iconic Hotel President, according to Palo Alto Councilwoman Lydia Kou.
Kou told the Post that she had met with developers from AJ Capital Partners, who told her they were set to close on the apartment building at 488 University Ave. yesterday.
An employee at AJ Capital told the Post that she "believed" the company was in the process of acquiring the building, but declined to comment further.
Kou said the developers had discussed their company's Graduate Hotels, a line of boutique hotels in college towns nationwide, including Berkeley, Seattle and Tempe, Ariz.
The six-story, 125-room hotel was designed by architect Birge Clark in 1929 in the Spanish colonial revival style. It "boasted a lush roof garden, a beautiful beamed ceiling lobby and a grand spiral staircase that climbed all the way to the top floor," according to Palo Alto history enthusiast Matt Bowling's website, PaloAltoHistory.org.
It lost its luster after being converted to studio apartments in 1968.
Ray Romero, of the President Barbershop downstairs, said he had heard rumors that the property was in escrow.