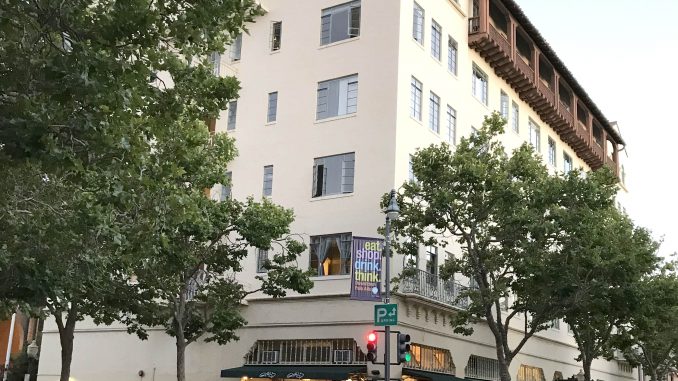 BY ALLISON LEVITSKY
Daily Post Staff Writer
More than a dozen residents of the historic Hotel President apartments in downtown Palo Alto turned out to City Council on Monday (June 18) night to urge council to save their home from being converted into a boutique hotel by its new owners.
Katja Priess Serang, the owner of Language Arts, a school with 60 students in Palo Alto, said she had lived at the President for 20 years.
"I'm facing the threat of losing my home," Serang said, noting the change in Palo Alto from a "vibrant, diverse community" to a "monoculture" that defers to "who has the most money to offer."
The President was sold on June 12 to AJ Capital Partners, a Chicago-based company that restores historic buildings and operates them as "Graduate Hotels" in college towns across the country.
The company has offered the 1929 building's tenants $3,000 each to vacate the building at 488 University Ave. by Nov. 12.
At about $2,000 per month, the building's 70 studio and five one-bedroom apartments are some of the city's most affordable rental housing because of their small size, limited parking and barebones amenities: most don't have full kitchens and get by with mini-fridges and hot plates.
Diane Boxill, a Palo Alto native, has lived and taught piano lessons in the building for 30 years.
She said the process of eviction seemed "rushed" and spoke to the daunting prospect of moving two pianos out of her apartment and finding an affordable home to rent in the area.
"We are not even sure to whom we should be paying our rent next month," Boxill said. "We need the City Council's help now… how do you intend to advocate for us?"
Another hotel needed?
Iqbal Serang, an architect and artist, said he had lived in the building for almost 30 years and raised his daughter in his compact studio apartment.
He questioned the need for another boutique hotel next door to the Garden Court Hotel at 520 Cowper St. and noted that the council had just created a new zoning district to accommodate dense, transit-oriented developments like the Hotel President.
"We have a 64-unit luxury hotel adjacent to us. The new owners are proposing destroying the existing residential and putting up boutique hotel. Is that fair? Is that what's needed?" Serang asked.
John Vermes, a 61-year-old technology consultant, said he had lived at the President for 26 years and called on the council to keep the eviction from taking place "without debate."
"This kind of constancy is a big deal," Vermes said. "We are here as a group to let this deliberative body know that we stand together and we stand for each other."
Jeff Brown, a 34-year Palo Alto resident who lives on Lincoln Avenue, said he was "a little astounded" at the council's stoic response to the tenants.
"You have incredible poker faces, because if I were sitting where you're sitting… steam would be coming out of my ears," Brown said. "This runs absolutely counter… to everything over those 34 years I have heard this city proclaim it wants for itself: more affordable housing, housing closer to transit, more community, less traffic."
Mayor Liz Kniss said that council doesn't respond to oral communications, but addressed Brown's remark by saying, "I doubt that there's a council member here who wasn't thinking sympathetically."
Unanswered questions
City Manager Jim Keene said that the city had not received a formal application or submission from AJ Capital, and thus is not currently in a position to respond to the sale.
"Our staff is still in the process of actually reviewing what the factors could be at play in any kind of city response to that application," Keene said. "It's uncertain to us as to whether or not what the hotel property owners want to do, what degree of review that would take."
Keene said he doesn't expect to have "that answer" before council goes on its summer break, which starts next week and lasts until Aug. 14.
Councilwoman Karen Holman took issue with the idea — alluded to by some residents' calls for transparency — that the meetings that AJ Capital held with Keene and several council members had been to "negotiate" the sale. She, Keene and other council members have told the Post that the meetings were merely meet-and-greets where AJ Capital executives told them what they planned to do with the property.
"I met with them four days before they purchased the property," Holman said. "There haven't been behind-the-scenes dealings with the property owner."
Kniss agreed.
"I think probably all of us were in the same situation," Kniss said. "Frankly, for me, it was not defined ahead of time, so it was somewhat of a mystery."