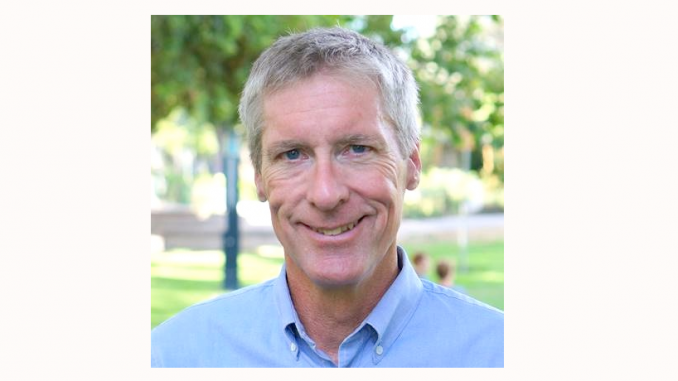 By the Daily Post staff
Eric Filseth, who was elected to Palo Alto City Council in the Residentialist wave four years ago, announced today (June 20) that he will be seeking re-election this fall.
He's the fourth candidate to announce for the three council seats available in the November election. The others are incumbents Cory Wolbach, Tom Dubois and library proponent Alison Cormack.
In the 2014 election, Residentialists elected Filseth and Dubois on a platform of opposing developments that create traffic and slowing growth. That gave the Residentialists a 5-4 majority from 2014 to 2016. In 2016, the majority tipped to council's pro-housing, development friendly faction. In this fall's election, Residentialists would need to win all three seats up for grabs to regain the majority.
"Palo Altans face significant challenges over the next several years," Filseth said in a statement released today. "We need to address our growth issues, especially housing, traffic and parking. We need to invest in our community, to enhance the qualities that make Palo Alto a great place to live and raise families. And we need to navigate the intensifying financial squeeze caused by the combination of the Bay Area's rising cost structure and our own escalating pension liabilities. None of these things will be easy; to negotiate all three at once will require extremely precise execution by our City government. I want to be part of that effort. I will always be an advocate for residents' concerns."
Filseth was born in Madison, Wisc., and grew up in Ontario, Canada. He holds an electrical engineering degree from Stanford University and an MBA from UCLA. He and his wife Tina Peak have lived in Palo Alto's Downtown North neighborhood for 27 years. Their two boys attended Addison Elementary School, Jordan Middle School, and Palo Alto High School, and are currently in college.
Filseth spent 25 years in the semiconductor and software industry, where he was a corporate vice president at Cadence Design Systems, and later CEO of Ciranova Inc. He currently serves on the boards of two technology startups.
Political history
Slow-growth Residentialists were on a roll in 2013, leading a successful ballot initiative to stop a high-density senior housing development on Maybell Avenue.
In the 2014 election, voters elected Residentialists Filseth, Dubois and incumbent Karen Holman. Combined with Pat Burt and Greg Schmid, the Residentialists gained a 5-4 advantage on the nine-member council.
Control of council changed in the 2016 election. Burt and Schmid left council due to term limits. Only one Residentialist was elected, Lydia Kou. That reduced the Residentialist faction to just four of the nine votes.
Also elected in 2016 were three candidates who are friendlier to development, especially housing — Liz Kniss, Greg Tanaka and Adrian Fine.
They joined Greg Scharff and Cory Wolbach to form a voting bloc, and often council votes are split 5-4.
After this fall's election, council will go from nine seats to seven.
Holman and Scharff will leave due to term limits.
For Residentialists to regain a majority, both Filseth and Dubois must be re-elected along with a third candidate who is on their side. For the pro-housing, development-friendly side to maintain control, it only needs to win one seat in the fall election.