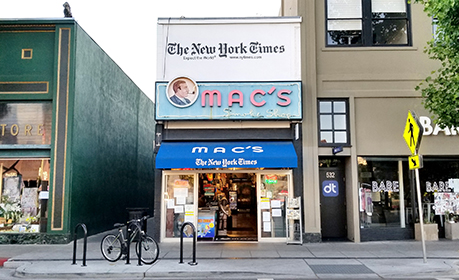 ROLL CALL VOTE
Alison Cormack, yes
Tom Dubois, no
Eric Filseth, yes
Adrian Fine, no
Liz Kniss, no
Lydia Kou, yes
Greg Tanaka, yes
BY SARA TABIN
Daily Post Staff Writer
Palo Alto City Council voted last night to ban the sale of vaping and flavored tobacco, a move that will probably mean the end of Mac's Smoke Shop, which has been at 534 Emerson St. since 1934.
Lori Khoury, who owns Mac's with her husband, said they purchased the iconic business to continue its legacy as the oldest smoke shops in Palo Alto. Khoury said the shop takes precautions to prevent sales to youth, including having a card reader to check the validity of IDs.
She said taking away the shop's ability to sell vape products amid the economic hardship caused by the COVID-19 shutdown will force them to close their doors.
The first draft of the ordinance banned vape products in stores like 7-Eleven, but had an exemption for smoke shops that catered to adults only. Council last night eliminated the exemption and passed the ordinance by a 4-3 vote.
The exemption was meant to protect the city's five small smoke shops, Mac's, Raw Smoke Shop at 265 California Ave., Red Brick Cafe & Hookah Nites Lounge at 235 University Ave., Smoke and More at 3896 El Camino Real, and Smokes and Vapes at 3491 El Camino Real.
City Manager Ed Shikada said the stores' owners say they get 60% of their revenue from flavored tobacco and e-cigarettes.
Public Works Assistant Director Phil Bobel said the other stores might do even worse than Mac's because they don't have other products. Mac's also sells cigars, cigarettes, newspapers, magazines, headshop gear and packaged foods.
Councilwoman Lydia Kou was the first to push to close the stores. She said that people are damaged every day that vaping isn't banned.
She was joined by Councilman Eric Filseth. He said he has seen posters against youth use at Mac's but thinks even if they are trying it isn't enough.
Council members observed that at a time when the economic shutdown is forcing businesses to close, this ordinance will contribute to the carnage.
"It's a crappy year to be introducing further hardships on any business," Filseth admitted.
Councilwoman Alison Cormack said vaping is a public health crisis. Councilman Greg Tanaka also jumped on board.
Councilwoman Liz Kniss, a nurse, said she is opposed to the ban because Mac's is an important piece of Palo Alto. She said she used to get the New York Times at Mac's 20 years ago.
Kniss said she supported the county's stricter tobacco ban but doesn't want to kill off more small stores in Palo Alto during the shutdown.
Mayor Adrian Fine said adults should be allowed to legally partake in vices.
He asked whether liquor stores might be next on the chopping block if tobacco shops are banned.
Councilman Tom DuBois said there isn't a history of problems at the five stores and he thinks banning vaping entirely is government overreach.
After it became clear that a majority of the council wanted to kill the shops, the council waffled for a while about when the ordinance should take effect.
City Attorney Molly Stump told council that city workers have been working on this project for months. She said the policy needs to be clear about what they want before the city can execute it.
Fine tried a compromise that would protect the Hookah lounge and give stores some extra time to sell their good before having to close but it didn't pass.
During the public comment period, a number of residents and members of anti-smoking organizations told council they want vaping banned.
Irwin Morton, a resident of 40 years, said he is worried that Palo Alto will become a Bay Area go-to vaping destination if local laws are laxer than in surrounding cities.
Sally Ann Rudd said her daughter bought $68 worth of vaping products at Mac's. Rudd said she caught her daughter by monitoring her debit card and the girl claimed she had just walked in and made the purchase. She said Mac's can't be trusted to turn away customers.
"Mac's needs to change its business model or disappear," she said.
Police carried out a sting operation in January to see whether stores would sell tobacco to minors who were decoys. Of the 17 stores the decoys visited, three clerks didn't ask for IDs from the under-aged undercover operatives. None of those clerks were working at adult-only stores.