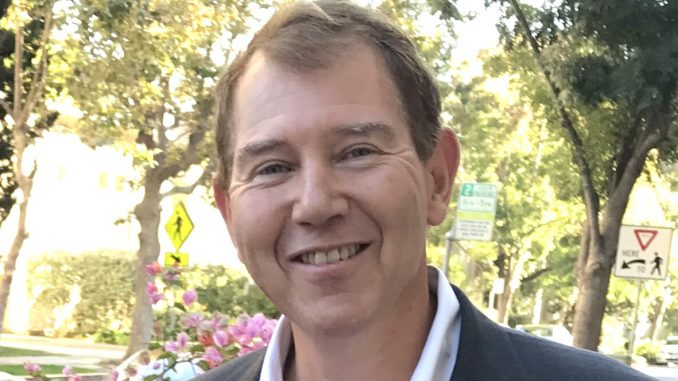 BY ALLISON LEVITSKY
Daily Post Staff Writer
Former Palo Alto Mayor Greg Scharff, who termed out of City Council in December, is looking at getting involved in city affairs again by applying for an opening on the city's Utilities Advisory Commission.
"Almost all of the issues are fascinating," Scharff wrote in an application to the city, citing the issues around undergrounding utilities, retention and recruitment of utilities employees and managing rate increases.
Other issues that Scharff said he wants to dig into are understanding the carbon-intensity of the city's electric portfolio supply, the city's carbon accounting methodology and its compliance with the California Renewables Portfolio Standard, the requirement that at least 60% of electricity retail sales be served by renewable resources by 2030.
Scharff, 56, was first elected to council in 2010 and served as mayor for two years. He's also served on the Bay Conservation and Development Commission since 2013 and chairs its enforcement committee.
Experience with utilities
He cited his experience on the Finance Committee, which oversees utilities issues, and his four years of serving as the council liaison to the Utilities Advisory Commission.
Since 2013, he's represented Palo Alto on the Northern California Power Commission, where he also serves on the executive board. He also sits on the Public Policy Committee of the American Public Power Association.
Scharff wrote that utilities are "one of the most important and interesting aspects of our community, and (I) feel that we are very fortunate as a community to own our own utilities."
Last November, he sought a seat on the Midpeninsula Regional Open Space District board, spending more than $120,000 of his own money on the election. He lost to former Mayor Karen Holman, whom he often opposed over development issues.
12 applied for commission
Scharff is one of 12 applicants for four open seats on the commission, including incumbents A.C. Johnston and Judith Schwartz. Terry Trumbull is not seeking another term on the commission.
Other applicants include patent lawyer Hogene Choi, attorney Rebecca Eisenberg, Oorja Fuel Cells Marketing Director Claude Ezran, internet engineer Robert Hinden, retired Baker Hughes product line manager David Hsieh, computer engineer Donald Clark Jackson, energy efficiency engineer Matthew McCullough, Commercial Real Estate Services Program Director Loren Smith and tech executive Rajesh Srinivasaraghavan.
Council is set to interview the candidates on April 29.