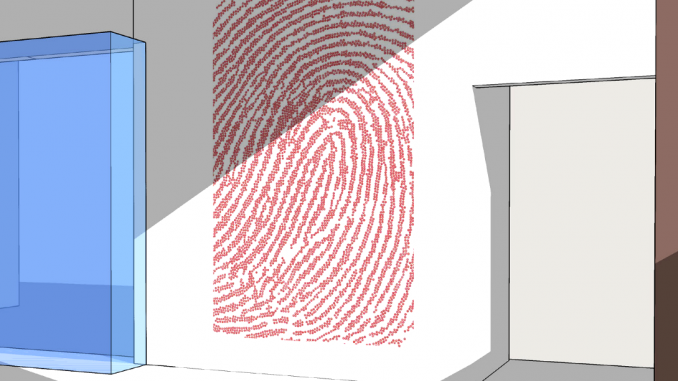 BY ELAINE GOODMAN
Daily Post Correspondent
The Palo Alto City Council will vote tonight (June 24) on a $719,000 contract with an artist who will create three pieces of art for the new police station in the California Avenue district.
The contract, with El Cerrito artist Peter Wegner, includes a base amount of $620,000 plus $96,000 in potential add-ons. The funds would come from money the city sets aside for public art. The item is on the council's consent calendar, in which several items are typically voted on at the same time without council discussion.
Two pieces of Wegner's artwork would be mounted on walls inside the new police station.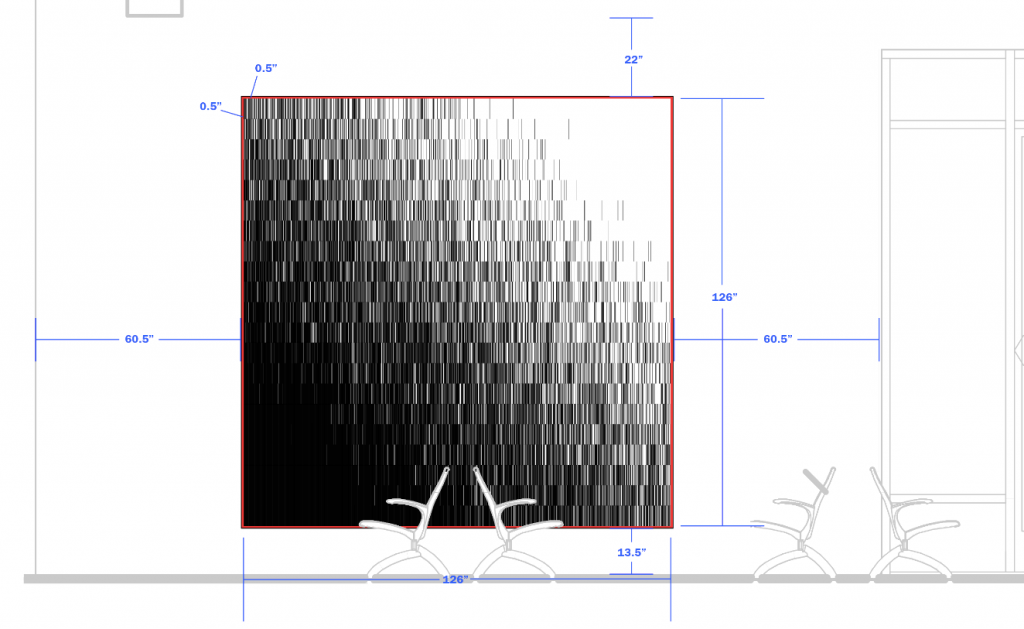 One of them would incorporate thin black and white plastic panels in an arrangement reminiscent of barcodes, set within a roughly 10-foot square red metal frame. The piece is called "100,000 Decisions" in reference to the minute-by-minute decisions made by emergency first responders.
In a second piece, called "Chance Impression," the artist would create a large, abstract fingerprint using red map tacks.
A third piece of art would be installed on the outside of the police station, facing Birch Street. It would include about 400 aluminum disks featuring maps of the historic Mayfield area and Palo Alto.
A fourth artwork had been planned for a wall of the parking structure that will sit next to the police station on Sherman Avenue. That art would have incorporated LED lights that could be programmed to change colors. But that part of the project was canceled due to budgetary constraints and the construction timeline for the garage, the city said.
Construction of the Sherman Avenue parking garage is now under way. Construction of the police station is expected to be finished in late 2020.
Wegner was selected for the police station project from a pool of 63 artists who responded to the city's request for proposals. His concept was presented during a community meeting on Dec. 6 and approved by the city's Public Art Commission later that month.
Artist's research efforts
In doing research for the artwork, Wegner hung out at the police department and with firefighters, and even rode in a fire truck and went on a police ride-along, according to a report to the City Council for tonight's meeting. He also spent time on California Avenue getting to know merchants and others in the area.
A city ordinance requires Palo Alto to set aside for public art 1% of its budget for capital improvement projects, such as its new, $92.2 million police station and parking garage. The funds from different projects can be pooled to pay for a single art project. The city also has a public-art requirement for private development.
Palo Alto has about 100 pieces of permanently-sited artwork in its collection, according to the city website, in addition to temporary projects.
The public art projects have included colorful crosswalks painted last summer at Louis Road and Fielding Drive, and a series of six silver owls at the Mitchell Park Community Center.
Last year, a temporary art project involved painting trees blue in King Plaza in front of City Hall.
Controversial art
But the public art program is not without controversy.
Last year, the city removed from Lytton Plaza an egg-shaped sculpture called "Digital DNA." The Palo Alto Public Art Commission voted to remove it, saying it was deteriorating and unsafe, and maintenance was too expensive.
The 7-foot-tall, 300-pound egg, made of computer circuit boards and steel, had drawn mixed feelings from the public. The egg's artist, Adriana Varella, vigorously protested the removal.
A Harvard Business School graduate living in Silicon Valley bought the piece for an undisclosed sum and donated it to his alma mater.
Only a fraction of the local news stories covered by the Daily Post appear on this website. To get all the local news, including many stories you can't find online, pick up the Post every morning at 1,000 Mid-Peninsula locations.