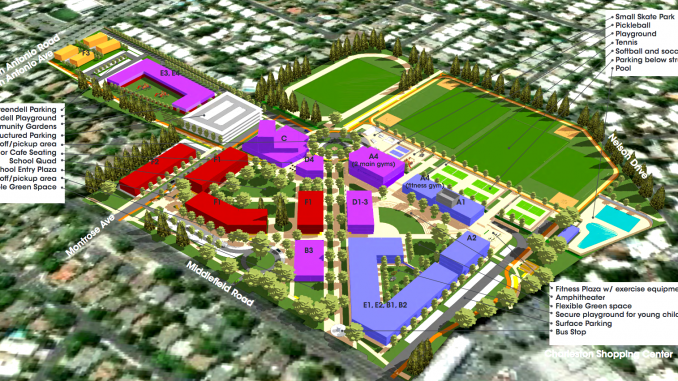 BY ALLISON LEVITSKY
Daily Post Staff Writer
Cubberley Community Center could one day be home to a school, a performing arts center and potentially anywhere between 32 and 164 units of housing — it's up to Palo Alto City Council to get the ball rolling tonight (June 3).
Officials are starting the process of analyzing the environmental impacts of the new development planned for Cubberley, a former high school that closed in 1979 amid declining enrollment and has since been used as a city-run community center.
For that study to move forward, council members are being asked to indicate tonight how much housing they want to see on the site, which could be anywhere from 32 to 164 apartments.
The question will likely provoke a lively debate on a council dais where housing is highly contentious.
Palo Alto approved a net total of just 407 homes between 2015 and 2018, and has approved only one significant housing project this year: a 59-unit affordable development at 3705 El Camino Real.
Four options
Tonight, the council will look at four options for how much housing could be built at Cubberley.
In Option 1, 32 units of two-story housing for Palo Alto school district employees would go up at 525 San Antonio Road, which is currently home to Athena Academy. The homes would be separated from Cubberley by Greendell School and the Palo Alto Adult School.
The 525 San Antonio property and Greendell School are being included in the Cubberley redevelopment plan because the properties are adjacent to one another.
Cubberley is on a 35-acre site, of which 27 acres are owned by the Palo Alto school district and eight are owned by the city.
In Option 2, 64 units of two-story school district housing would go at 525 San Antonio and on the other side of Greendell.
In Option 3, 64 units of school district housing would go on district land and 48 units of four-story housing, possibly for seniors, city workers, school district employees or low-income residents would go on city land.
And in Option 4, 64 units of school district housing would go on district land and 100 units of housing would go on city land. Fifty-two of those units could go on top of the community center.
Public offers ideas
The housing would be one component of a multi-use center.
After four meetings in which hundreds of members of the public weighed in on possible features of a redeveloped Cubberley, consultants from the New Orleans firm Concordia compiled a list of the most popular ideas: adult education, green space, a workshop, senior and multigenerational programs, a health and wellness center, a cafe, flexible rental space, a pool and a performing arts center.
The consultants are planning for a two- to three-story development with underground parking, based on feedback from the public.
Cubberley may also include a new school in the future, which may share space with some of the other program areas such as a theater, gyms, arts classrooms and gallery space, a public kitchen, maker space and a large event space.
The discussion about housing at Cubberley is scheduled for 7:40 p.m. tonight (June 3) at 250 Hamilton Ave.