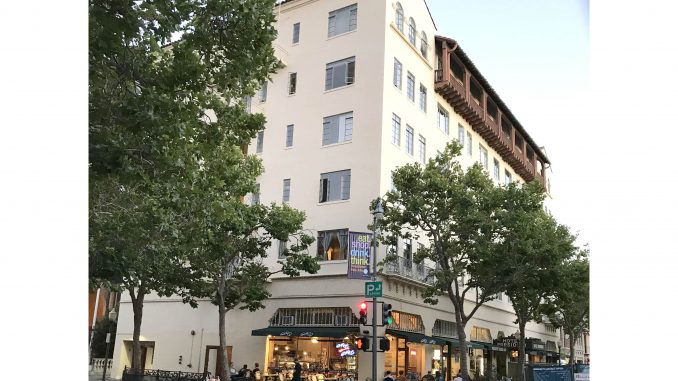 BY ALLISON LEVITSKY
Daily Post Staff Writer
The buyers of the Hotel President said yesterday (July 20) that they "disagree" with the city of Palo Alto's denial of their plans to convert the 75-unit apartment building back into a hotel, evicting dozens of residents of the building's $2,000 studio apartments.
"We have received the letter from city staff and we respectfully disagree with the letter's preliminary analysis of the zoning question," Adventurous Journeys Capital Partners President Tim Franzen said in a statement. "A hotel use at this location is supported by the zoning. We intend to discuss this matter further with the city."
AJ Capital spent $65 million on the 89-year-old building in a sale that closed June 15, according to the real estate site Redfin.
On Tuesday, Assistant Planning Director Jonathan Lait sent a letter to Franzen, stating that the city had reviewed the property and determined that remodeling the building while converting it to a hotel isn't allowed under the city's zoning code.
That's because of the city's grandfathering laws, which allow older buildings that are too tall or dense to comply with current zoning code to remain in use, but prevents them from changing use unless the new use complies with the current code.
Assistant City Manager Ed Shikada said that he had met with AJ Capital representatives on Thursday, but that the meeting "was really simply to reiterate what was in the letter" and that nothing further had taken place.
The meeting included two former Palo Alto City Hall insiders representing AJ Capital. Richard Hackmann, who works as a director for Lighthouse Public Affairs, and Steve Emslie, a partner at Lighthouse, are representing AJ Capital in talks with the city. Hackmann worked as a management analyst for the city from 2010 to 2016. Emslie was Palo Alto's
planning director until 2008, when he was made deputy city manager. He left the city in 2013. Other clients of Lighthouse include Castilleja School, Facebook and Google.
Shikada said that AJ Capital "can certainly apply" for an exception to the city's zoning laws.
"The approval, I think, is the more speculative question," Shikada told the Post. "They can continue in the current state, or they can choose to vary within the boundaries of what the existing uses are."
The building houses two restaurants, a frozen yogurt shop, a cigar store, a barbershop and a boutique on the ground floor. Above the retail stores are six floors of small studio apartments, most of which have mini-fridges and hot plates in the place of full kitchens.
Billy Kader, the owner of the 17-year-old Hemingway Cigars and Tobacco shop downstairs, said AJ Capital had told the retailers that their leases would continue. Kader has one year left on his lease plus an option of five more.
He said he would be sad to see longtime residents move out because "they're my neighbors up there," noting that his daughter was upstairs playing with a girl who lives in one of the apartments.
But, he added, "if you don't own your own place, there's no guarantee."
Gyros Gyros, a Greek restaurant on the corner of University Avenue and Cowper Street, just entered a 10-year lease and will be allowed to remain in operation for the next decade.
'Residential in character'
Shikada said the history of different uses at the Hotel President makes it different from the Garden Court Hotel next door.
"I think it is the use in terms of really being residential in character, as opposed to hotel, and falling within that overall definition," Shikada said. "The Garden Court is clearly a hotel property. It operates as a hotel. It's limited to that use."
And, he said, there's nothing preventing AJ Capital from continuing to operate as an apartment building while increasing rents.
Councilman Cory Wolbach said he had met with Hotel President tenants and asked City Manager Jim Keene and City Attorney Molly Stump to "look into the details of the zoning" last month.
"I can't say that the book is closed on this story, but I think we need to continue to look very carefully and have those conversations in a professional way," Wolbach told the Post. "This has, of course, raised larger questions about how we ensure that residents, renters throughout the city, are protected and treated fairly when faced with rental increases or evictions."
At the council retreat earlier this year, Wolbach proposed having a discussion about renter protections, a suggestion that didn't win support from other council members.
"I want it to start as an open conversation, a range of policies to support renters facing eviction or massive rent increases," Wolbach said. "I don't want to start by prescribing the details of the solution. I want to start by saying there are some problems."
In October, council voted 4-3 not to study the possibility of beefing up rental regulations. Council members Karen Holman, Lydia Kou and Tom DuBois were the only supporters of looking into rental protections.
'We conquer space'
AJ Capital's website, which lists the motto "We conquer space and give it back meaning" on its website, states that the hotel will be opening in Palo Alto in 2020 after a renovation.
The company bought the building to add to its boutique chain of Graduate Hotels in college towns across the country, including Berkeley.
Other Bay Area properties include the Armory building in San Francisco's Mission District, on which AJ Capital spent $65 million in January. The Armory last sold for $14.5 million in 2006 to a pornography company, according to the San Francisco Chronicle. AJ Capital plans to lease the 200,000-square-foot building to manufacturing companies with office space on the top two floors.