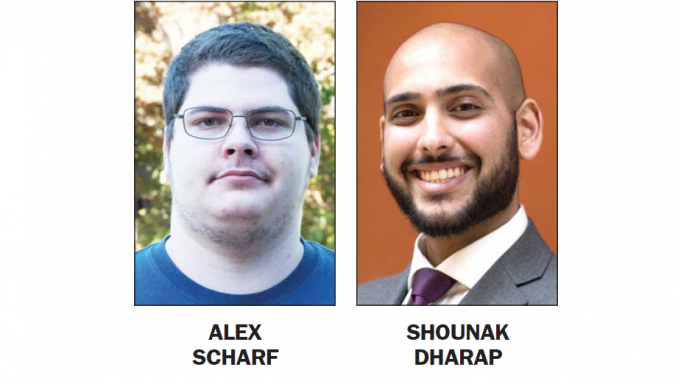 BY ALLISON LEVITSKY
Daily Post Staff Writer
The race for two open seats on the Palo Alto school board has two unusually young contenders this year: two school district alumni in their 20s.
Barron Park resident Alex Scharf, 21, said he decided to run because of his "frustration with how poorly the Palo Alto school system works, and how the staff, the administration and teachers have almost no accountability."
Scharf attended Briones and Ohlone elementary schools, Jordan and Terman middle schools and Palo Alto High School. Now, he's a part-time student at Foothill College currently taking a break from general education coursework. He hasn't picked a major but said he's interested in photography.
Special education
Specifically, Scharf said that as a special education student, some of his teachers "refused to acknowledge" his Individualized Education Program, a document that sets out goals for each special ed student.
The second young candidate is Shounak Dharap, a 28-year-old Midtown resident. Dharap, a litigator at the Arns Law Firm in San Francisco, graduated from Gunn High School in 2008, the year before the school's suicide streak.
After the streak started, Dharap joined a Facebook group called Talk, where students and alumni offered support to Palo Alto students who were depressed or in crisis.
One of Dharap's water polo teammates committed suicide that year, he said.
He told the Post in April that he plans to focus on engaging school district alumni with an alumni engagement committee and prioritizing experiential, participatory education in schools over rote memorization and lectures.
More communication
Dharap said he wants to see more communication between the school board and City Council and better administrative support for teachers, especially in responding to sexual harassment and assault complaints.
Dharap said he's reserved the Bowl Area at Mitchell Park from 1 p.m. to 3 p.m. on Aug. 11 for his campaign kickoff.