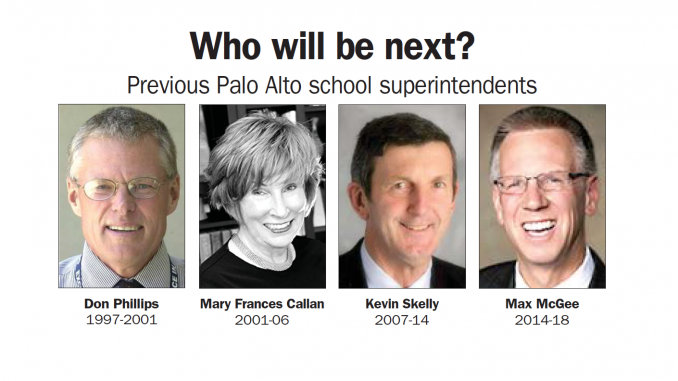 BY ALLISON LEVITSKY
Daily Post Staff Writer
The Palo Alto school board has narrowed its list of superintendent candidates down to three, but hasn't made a final decision a week after beginning the interview process.
After a more than three-hour closed-session meeting at the district office yesterday (April 17), Board President Ken Dauber said the board would need to meet again in closed session, but couldn't say whether it would be days or weeks before a decision was made.
The board has not yet scheduled its next meeting.
Dauber declined to say whether Interim Superintendent Karen Hendricks was one of the finalists.
The board held interviews at the Crowne Plaza Cabana Hotel for a total of 16 hours on April 11 and 12. The finalists from those two days of interviews were brought in for another round on Sunday, Monday and Tuesday.
On Monday, a 15-member community group of eight parents, two high school students and five district employees had a chance to question the finalists.
Hendricks took over as interim head of the district after Max McGee stepped down in September.
In November, the school board hired the Illinois search firm Hazard, Young, Attea and Associates for $23,500 to recruit a new superintendent. Coincidentally, McGee was hired at the search firm after resigning as superintendent, but board members said they didn't think his employment constituted a conflict of interest. McGee is handling assignments elsewhere in the U.S.