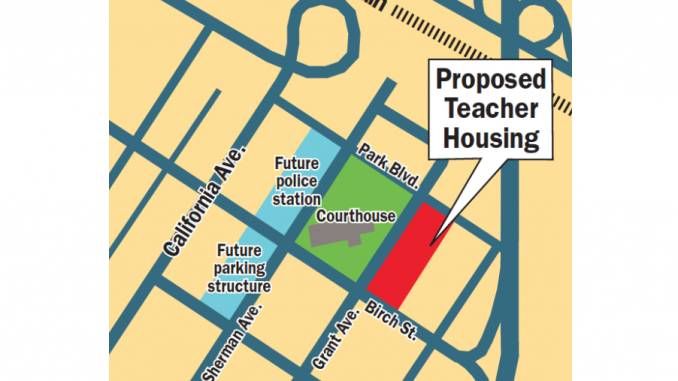 BY ALLISON LEVITSKY
Daily Post Staff Writer
Santa Clara County pledged $6 million yesterday (April 17) to build between 60 and 120 apartments for teachers on a plot of county-owned land at 231 Grant Ave., near the courthouse in Palo Alto — but not without some questioning about whether local government building homes is the most efficient way to house teachers.
It was the first time county Supervisor Dave Cortese, who represents San Jose, Sunnyvale and Milpitas, had abstained from a substantive vote since 1992, other than motions with which he would have had a conflict of interest, he said.
He explained that when he served on the school board of the East Side Union High School District in San Jose, the board had considered building workforce housing for teachers, but ultimately dismissed the idea as inefficient compared with, for example, distributing cash subsidies for housing costs to low-income teachers.
"Six million dollars would provide a $500 monthly stipend 12,000 times over, and people could qualify for those dollars without having to worry about fair housing rules, who gets the 120 units versus who doesn't get them, then all the difficulties in constructing apartments where people may or may not want to live," Cortese said. "I find it to be a very clumsy and awkward type of way to deal with affordable housing in general, and specifically teacher housing."
Cortese said he wasn't voting against the proposal, which was introduced by Board of Supervisors President Joe Simitian in January, because he didn't want to stand in the way of something his colleagues supported. Simitian, who represents Palo Alto, took Cortese's abstention in stride. The proposal passed 4-0-1.
"The burden is on our staff and me to come back with a program that is worthy of support by all five members of the Board of Supervisors," Simitian said.
He added that he saw the program as "not dissimilar, frankly, from what we did with respect to Buena Vista," referring to the county's partnership with the city of Palo Alto, the nonprofit Palo Alto Housing and the Santa Clara County Housing Authority.
The city and the housing authority paid three times the county's financial contribution to buy Buena Vista Mobile Home Park from the owners for $40.4 million last year. The purchase by the housing authority allowed 400 residents to stay in their homes on El Camino Real.
The $6 million for teacher housing will be used for matching funds from the city of Palo Alto and local school districts, which have already expressed interest. The funds will come from the Stanford Affordable Housing Fund, which was created as part of the 2000 General Use Permit for Stanford's last expansion.