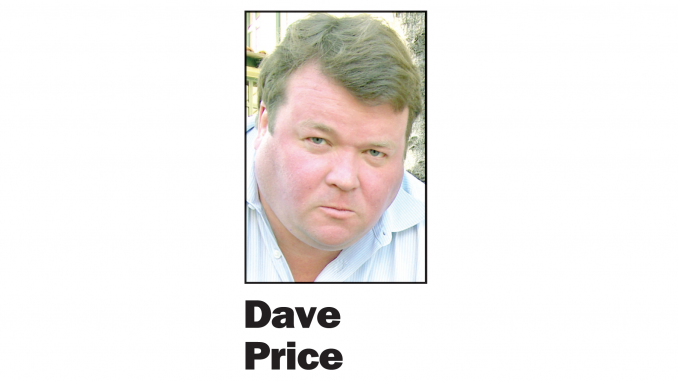 Opinion
BY DAVE PRICE
Daily Post Editor
Watching Stanford stumble through the process to get a permit for its 3.5-million-square-foot expansion has been painful.
I count myself as among those who want to see the university grow and prosper. Stanford, and the brilliant minds it has educated, made Silicon Valley what it is today. Without Stanford, Palo Alto would be El Cerrito.
But any development must fully mitigate the problems it creates for its neighbors. A development can't increase the demand for housing, worsen traffic or deplete funding for the schools.
Rarely have politicians here forced developers to fully mitigate their impacts. As a result, the mid-Peninsula has a dire housing shortage, horrendous traffic delays and schools begging for money.
The full mitigation standard
For perhaps the first time, an elected official — Santa Clara County Supervisor Joe Simitian, with the support of his colleagues on the board of supervisors — has applied the full mitigation standard to a development proposal.
Stanford tried every way to wiggle out of that standard.
On Friday, Stanford folded. It withdrew its permit application.
The withdrawal came just four days before the supervisors were to approve a permit Stanford probably didn't want because it would have required full mitigation.
Stanford made one colossal mistake after another during this 3-1/2-year process.
The biggest mistake was that Stanford didn't understand how angry people are over the housing shortage and the exasperating traffic.
To put it another way, Stanford officials couldn't read the room.
President was MIA
Where was Stanford President Marc Tessier-Lavigne in this process? Had he just spent a few hours at the Rose & Crown or Antonio's Nut House, he would have discovered that his development was in trouble due to the anger over housing and traffic.
If you want evidence of this public discontent, watch the video of the county supervisors' Oct. 22 hearing held in the Palo Alto City Council chambers. The place was so packed that the fire marshal had to make people leave the room and watch from the lobby. Speaker after speaker went to the microphone to slam the university's plans. Protesters outside held signs saying "full mitigation."
Another mistake Stanford made was cynically thinking that the housing it was already building should count toward mitigation under the new permit. This position was the height of arrogance, as if people would be too stupid to realize that housing Stanford had built in the past should count toward future demands. In the days before they folded, Stanford finally relented and agreed to build all 2,172 housing units the county had demanded. It should have agreed to this from the get-go.
Stanford also said that it was not going to abide by traffic standards the county was planning to impose. The supervisors were going to impose those standards whether the university wanted it or not. And they weren't onerous standards — they wanted to extend what qualifies as peak rush hour traffic from one to three hours, include reverse trips in traffic calculations and not increase the average daily trips in and out of campus.
Stanford should have known going into this that it had to fully mitigate the traffic the development would create.
Why was this necessary?
Perhaps the most baffling mistake Stanford made was insisting on a development agreement from the county, an extra contract outside the general use permit. Stanford said it needed the agreement to guarantee that the rules would not change during the 15-year lifespan of the permit. The county had never granted a development agreement before, though they have been used in different jurisdictions.
If Stanford wanted to convince people that a development agreement was necessary, it should have shown that the county had a history of changing permit requirements on other developments. But this hasn't been a problem before.
And if the county did change the terms of the permit during the 15-year period, Stanford could sue to enforce the permit's original terms.
Another mistake was how Stanford took advantage of the Palo Alto Unified School District. Any new Stanford housing would be exempt from property taxes, so the school district wouldn't get additional money to educate as many as 1,000 new kids coming from Stanford.
The university's negotiators somehow convinced Superintendent Don Austin to accept a terrible deal for school funding. Stanford offered around $6,000 a year per student even though the cost of educating a student in the district is about $20,000. In other words, the district would be getting about 30% per student.
Had the 30% deal gone through, the school system would have faced a significant cash crisis in the years ahead. Fortunately, the school board never voted on the Stanford side deal, and now it's a moot point because of Stanford's withdrawal.
The fact that Stanford would take advantage of the local school district reeked of bad faith. Stanford, if it decides to seek a new permit in the years ahead, should promise from the start to fully fund the schools — no 30% deals.
Go above and beyond
Stanford officials said on Friday that they don't know what their next move is. One theory going around is that they're going to wait until Simitian is out of office before they re-apply, hoping they'll get a weaker supervisor who will cave to their demands.
My guess is that we're going to have Simitian for another five years. Under the county's term limits rule, he can run again next year for his final four-year term.
My advice to Stanford is to learn from these 3-1/2 years and design a project that fully mitigates whatever harm it does. The environmental impact report is completed, so use that to inform your next application.
And then go the extra mile. Aim for a project that not only mitigates its impacts but improves life beyond that. Build additional housing over and above what's required. Provide additional transportation in excess of what the county will demand. Pour money into the school district beyond the $20,000 per student per year.
Make everyone proud of your proposal. Become a problem-solver, not a problem-causer.
Editor Dave Price's column appears on Mondays. His email address is [email protected].