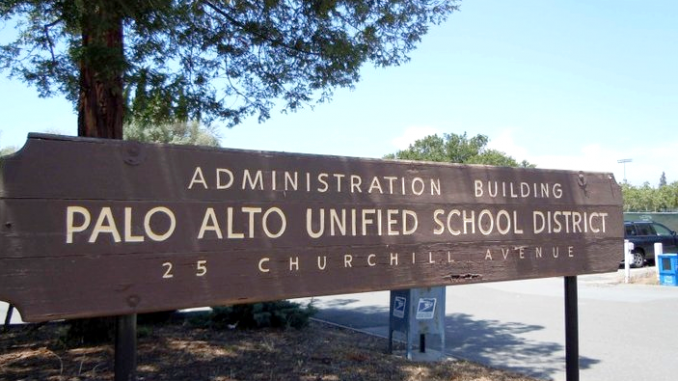 This story was printed on Wednesday, Sept. 11, in the Daily Post.
BY SARA TABIN
Daily Post Staff Writer
Palo Alto school board members on Tuesday night gave up on their plan to get rid of the board's rule to hold two meetings on each proposal after drawing heat from outraged residents, who complained they were limiting public participation.
Even trustee Shounak Dharap, who drafted the change, admitted he was wrong. And the reaction he got was "broad" and "unanimous," he said.
"I'm not going to support the language that I admittedly drafted," he said.
Palo Alto parent Michelle Higgins said the community is united against the proposal, adding that there is widespread concern about the transparency of the board.
Kimberly Eng Lee, co-chair of the Community Advisory Committee for Special Education in Palo Alto, said the proposal brought into serious question the value that the board places on community input. "Palo Alto is diverse in heritage … but there are some things we hold in common and high regard like transparency and informed decision making," said Eng Lee.
Seven people spoke out against the proposal, as did both student representatives on the board, board President Jennifer DiBrienza and Trustee Melissa Baten Caswell.
Advance notice at issue
Under the existing rule, a new proposal is rolled out at the first meeting, and then the board and public have two weeks to consider it before it returns for a second and final reading. If the change had gone through, the proposal would have been released on Fridays, when the board's agenda goes out, and it would be voted on at the Tuesday night meeting — giving people four days to consider it.
Opponents to the change pointed out that with two readings, there's more time for news about a proposal to circulate in town and for experts on the subject to contact the board with their concerns.
One parent who opposed the change was Kathy Jordan, an unsuccessful school board candidate last year and a close observer of board activities. She wrote an email to Superintendent Don Austin about the rule change, and Austin responded by saying he didn't think it would reduce board transparency.
"Of the last 50 items (that had gone before the board), how many benefited from a second meeting? If you share your number, I will be happy to share mine Tuesday on TV," Austin said in his email to Jordan.
Examples when two meetings helped
Austin did not share any numbers or comment on the proposal on Tuesday, but Baten Caswell listed numerous instances when having the second meeting prevented the board from making a bad decision. In 2012, board member Todd Collins, who was not yet elected, persuaded the district not to buy bonds that had a massive balloon payment at the end.
He needed two meetings to do it, Baten Caswell recalled.
After the first meeting, he came back at the second reading with a group of financial leaders to explain why it was a bad idea, said Baten Caswell. If the board had voted at the first meeting they would have approved the measure and lost $800 million, she said.
Another example Baten Caswell gave was the renaming of Jordan Middle School last year. She said the board would have named Jordan Middle School after World War II hero Fred Yamamoto of Palo Alto, but after the first reading, Chinese Americans in Palo Alto came forward to object because Yamamoto had the same surname as Pearl Harbor mastermind Isoroku Yamamoto, who is despised in the Chinese community.
The board backed up at the second meeting and decided to instead name Jordan after Frank Greene, a black Silicon Valley tech luminary.
"When you announce something on a Friday, by Tuesday you're not going to get all the experts in the community paying attention," she said.
Dharap wanted to increase efficiency
Dharap said he still wants the rule adjusted to increase efficiency. He suggested that agenda items be posted two weeks in advance instead of having two meetings, a suggestion deemed impractical by other board members.
Trustee Ken Dauber said he still supports doing away with the two-meeting rule and that he is disappointed Dharap changed his mind.
Dauber said the board should focus on making sure they are upholding the Brown Act, which says meetings must be public, and fulfilling public records requests rather than spending two meetings for every action item.
Collins also said he supports having a more efficient process.
Since a majority of board members didn't support pursuing the change further, it will not go forth.
Only a fraction of the local news stories covered by the Daily Post appear on this website. To get all the local news, including many stories you can't find online, pick up the Post every morning at 1,000 Mid-Peninsula locations.