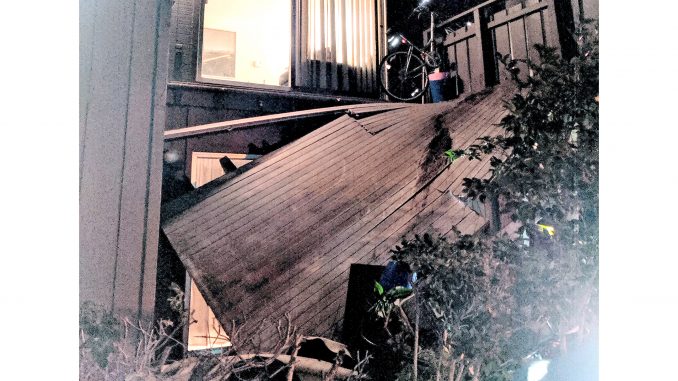 By the Daily Post staff
Update, 10 a.m. — The Mountain View Fire Department reports that after separating from the exterior wall, the balcony seen above "gradually" descended to the ground Wednesday night.
The balcony collapse at 50 E. Middlefield Road was reported to 911 at 9:08 p.m. and firefighter/paramedics arrived there at 9:12 p.m. They "immediately began medical triage of the occupants and simultaneously started a search under the debris for possible victims," the Fire Department said in a statement.
Nobody was found in the debris.
Firefighter/paramedics evaluated everyone involved in the collapse and treated one person for minor injuries, according to the Fire Department. That person declined to be taken to a hospital.
The Fire Department said the precise cause of the collapse is undetermined and is under investigation.
Original report — A handful of people were on this second-story balcony at 50 E. Middlefield Road in Mountain View when it collapsed at 9 p.m. Wednesday (Sept. 11), police said.
Four people were treated at the scene by paramedics but nobody was taken to a hospital for injuries, said police spokeswoman Katie Nelson.
The cause of the collapse was unknown.
Roger Noel, who lives across the street, said he suspects they had too many people on the balcony. Noel submitted the photo seen above.