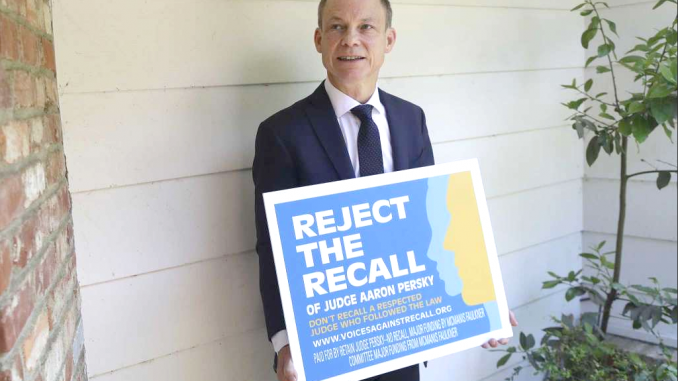 BY SARA TABIN
Daily Post Staff Writer
Former Judge Aaron Persky was fired yesterday from his new job as a tennis coach at Lynbrook High School in San Jose because the school superintendent wanted to protect students from media attention over his hiring.
Persky received nationwide condemnation in 2016 when he sentenced Stanford rapist Brock Turner to six months in jail, the amount of time that was recommended by the Santa Clara County Probation Department. He was recalled from his judicial position after a campaign led by Stanford Professor Michele Dauber in 2018.
The Fremont Union High School District hired him as a coach at the start of the school year.
Persky declined to be interviewed yesterday but confirmed his firing in an email.
"Polly Bove, superintendent of the Fremont Union High School District, explained that she was motivated by a desire to protect the players from the potentially intrusive media attention related to my hiring," Persky wrote. "Although I am disappointed with the district's decision, it was a privilege to coach the team, if only for a short time. I wish all of the players the best in their future academic and athletic endeavors.
Retired Judge LaDoris Cordell, who campaigned against the recall, said the decision to fire Persky makes "no sense whatsoever."
She said there are thousands of people who commit serious crimes, go to jail and find new jobs once they are released.
But in Persky's case, he broke no laws. He simply made an unpopular judicial decision.
Those who continue to punish and troll Persky by complaining to the school district are "purely mean- spirited," she said.
"Although he has done nothing wrong, the whole concept of redemption … for some reason does not apply to Aaron Persky," said Cordell.
Cordell said she hopes the parents and students of the school district will come together and demand that Persky be reinstated.
A day before his firing, Lynbrook school issued a statement to NBC Bay Area calling Persky a "highly qualified applicant" who holds a high rating from the U.S. Tennis Association and had attended several coaching clinics for youth.
Rachel Zlotziver, spokeswoman for the Fremont Union High School District, said in a statement that the district believes his termination is in the best interest of the students and school community.
"Please know that we are deeply committed to maintaining an effective, safe and positive environment for all students," she said.