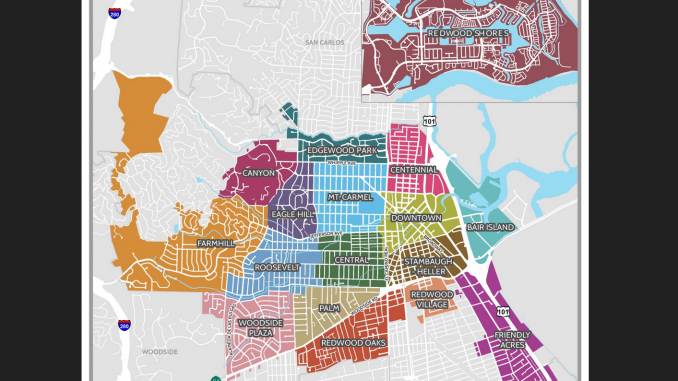 BY EMILY MIBACH
Daily Post Staff Writer
Redwood City residents will likely not have to pay $60 to park in their neighborhoods as part of a parking permit program amid concerns the fee will hurt low-income residents.
The City Council on Monday (Sept. 9) expressed disdain for charging residents to park and said they would like to see the amount of a parking ticket raised.
"I have a philosophical issue with charging folks to park on public streets, which we are already paying for with new taxes," said Mayor Ian Bain. "I have no problem with increasing fines."
Reasons for parking crunch
The council was discussing charging residents whose neighborhoods are part of a parking permit program because there has been a parking crunch.
It may be caused by residents using their garages for storage or to house people instead of cars, said Christian Hammack, the city's parking and transportation demand manager. Some residents own more cars than they have spaces for, and the city is seeing a rise in commercial vehicles connected to home-based businesses, he said.
Hammack recommended the fees because the city's current program — which is free to residents — does not cover the cost of enforcement — about $270,000 annually.
The city also wants to add two parking enforcement officers who will spend half their time patrolling permit parking areas. The $60 for two permits may not seem like a lot to some, but that money could pay for dinner for a family of four, Councilwoman Janet Borgens pointed out.
Stambaugh Street resident Pedro Sanchez told the council to reject the fees, because many residents in his neighborhood are low-income and barely able to pay rent and their bills.
"Charging people when they're trying to get by is just cruel," Sanchez said, pointing out that the residents who could apply for low-income waivers probably won't because they're "already in the shadows."
Councilwoman Shelly Masur also pointed out that the city has parking permits in mostly high-density, lower-income areas, while other residents, mostly those who live near Sequoia High School, are OK with the fees. She suggested that perhaps some parts of the city could be charged for the permit program while others are not.
Most support program
All of the eight residents who spoke at Monday's meeting were in favor of the permitted parking program, with about half against paying and the other half supportive of fees.
Isabella Chu said the only reason she keeps her car is because she has a free place to store it — on the street. But she also said charging a fee would ease the parking crunch in some areas because some people will start parking in their driveways to avoid paying.
Most of the council was in favor of increasing the $40 parking ticket fees. Both of the issues will be revisited later this year.