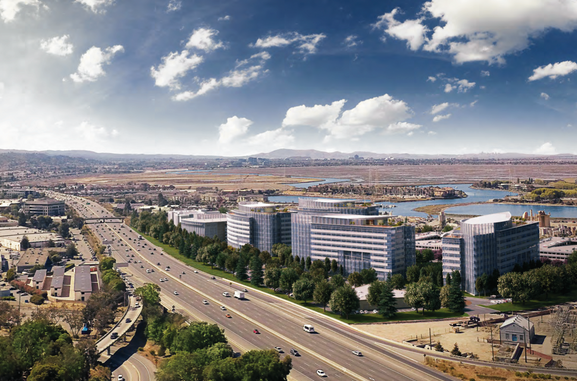 BY EMILY MIBACH
Daily Post Staff Writer
A developer who is looking to build 1.2 million square feet of office space to replace the former Malibu Grand Prix site in Redwood City is the biggest donor for the city's sales tax measure campaign.
The Jay Paul Company of San Francisco has contributed $10,000 to the Yes on Measure RR campaign, which promotes the half-cent sales tax measure that goes to Redwood City voters on Nov. 6.
City Council voted unanimously to place the sales tax measure on the ballot, and all of the candidates for council support the measure. Council will ultimately decide if Jay Paul's project moves forward.
Jay Paul's project is currently undergoing an environmental review. The developer is asking the city to rezone the former Grand Prix site on Blomquist Street to office space, requiring the council to change its General Plan, a blueprint for future development in the city.
Sims a donor
Jay Paul is by far the biggest contributor to the campaign, providing over two-thirds of the campaign's $14,500 war chest, with the next donor being scrap metal recycler Sims Metal Management at $2,500.
Within a span of six weeks in 2013, two fires broke out at the scrap metal yard in Redwood City, spreading the smell of burning rubber and plastic throughout the Peninsula. After the fires, Sims agreed to spend $1.4 million to upgrade its Redwood City plant to prevent hazardous materials from blowing into the atmosphere.
The Measure RR campaign has also received $1,000 from developer Summerhill Homes, which owns the property at 150 El Camino Real, where 12 townhouses are currently under construction.
The measure has also received $1,000 from Chamber of Commerce Director Don Cecil.
The tax is expected to bring in $8 million annually. If the tax passes, it will boost the city's sales tax rate from 8.75% to 9.25%. The sales tax might go to 9.75% if, in the same election, San Mateo County voters approve Measure W to fund SamTrans and other transit projects.
Tax to fund pensions
The city ran surpluses of $26 million in the fiscal year ending June 30, 2017, and $31 million the previous year. But City Manager Melissa Stevenson Diaz told council at a July 23 meeting that the city's payments to CalPERS, the state pension program, are expected to double in the next five years, plunging the city budget into a $12 million annual deficit.
The tax proceeds would go directly into the city's general fund and could be used by the police, fire, library and parks and recreation departments, which represent 80% of the city budget. Those departments would have to be cut if the tax doesn't pass and the city has to shift more money into CalPERS.