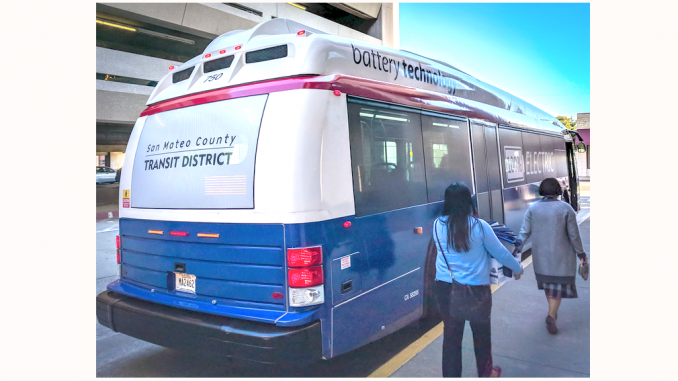 By the Daily Post staff
SamTrans rolled out new buses yesterday (Oct. 16), 21 days before San Mateo County voters will decide whether to raise the county's sales tax half a cent to fund SamTrans and transportation projects.
SamTrans bought the 10 electric buses for $9.2 million in March.
The money came from federal, state, Bay Area Air Quality Management District and SamTrans funds, according to a statement from March.
The new electric buses cost about $270,000 more than regular diesel buses but create about $25,000 a year in fuel savings, according to a tweet by SamTrans board member Dave Pine.
Measure W, the half-cent sales tax that goes before voters Nov. 6, would bring in $80 million a year.
Half of that would fund SamTrans and its paratransit services, while $8 million would go toward mass transit projects, such as part of the cost of bringing a public ferry service to the Redwood City Port and a sliver of the cost of reviving the Dumbarton rail line.
Measure W would raise the sales tax to 9.25% in most San Mateo County cities. In Belmont, East Palo Alto and San Mateo, it would go to 9.5%.