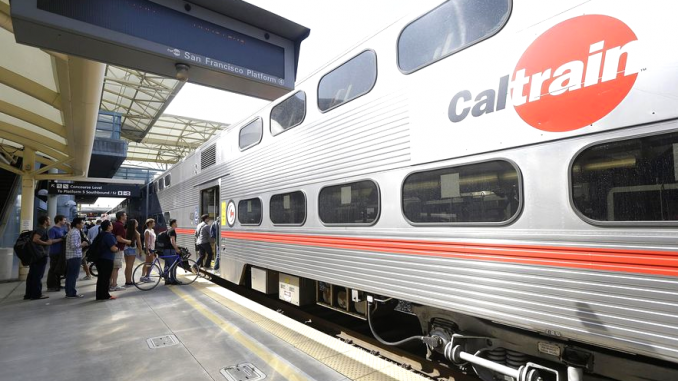 BY JEN NOWELL
Daily Post Correspondent
Caltrain's Board of Directors is considering the idea of shaking things up at the transit agency, including changing up who picks the CEO, as two counties want more of a say in how things are run.
Currently, members of SamTrans Board of Directors — all San Mateo County representatives — choose Caltrain's head honcho, even though Caltrain covers San Mateo, Santa Clara and San Francisco counties.
Jim Hartnett, a former Redwood City councilman, was hired in 2015 to head the San Mateo County Transit District as well as the SamTrans bus agency and Caltrain.
Yet, Hartnett failed to meet some of the "minimum qualifications" for the job, including:
• A bachelor's degree in business, engineering, planning or a related discipline. Hartnett got his bachelor's degree in Japanese politics from Sophia University in Tokyo and his law degree from Santa Clara University.
• And a minimum of 12 years experience in leading and managing a large, complex and highly integrated organization. Hartnett's management experience was limited to overseeing a small law firm in Redwood City.
Committee to look at changes
At its retreat Nov. 21 in Half Moon Bay, Caltrain's Board of Directors agreed they want an ad hoc committee formed to explore new governance models, which could include keeping the status quo, slight modifications to this current structure, or putting themselves in control of selecting who runs the transit agency.
The board also wants to hire special counsel to assist with the process.
This controversy comes at a time when Caltrain is in the process of electrifying its rail lines, and the agency is estimating a nearly 300% increase in ridership by 2040.
Caltrain officials are considering a tax measure as the agency struggles to keep its budget balanced.
"If this agency had a motto, it would be, 'We do more with less,'" said Charles Stone, Caltrain board member and Belmont councilman.
Caltrain is touted as a success story, Stone said, but added that it needs "to do more with more going forward."
Howard Permut, a management consultant working with Caltrain, said the commuter rail is the most efficient railroad in the U.S., but it needs additional financing and workers to aid in its growth. And the current arrangement may need to change as the organization grows, he said.
Many job openings
Caltrain's Chief Operating Officer Michelle Bouchard told the board that the agency's rail division currently has 35 vacancies with a budget for 75 full-time employees.
The skill sets needed in some of these vacant spots are rare, making it challenging to recruit, Bouchard said. The cost of living and growing traffic in the Bay Area can deter people from moving here.
To which several people quipped that potential candidates would get to be part of the solution for the traffic problems.
Stone suggested Caltrain could build housing on some of the land it owns and provide workforce housing at a more affordable price, attracting new recruits.
At its December meeting, the board will discuss the governance issue more in depth.
This potential shakeup also comes as Caltrain considers putting a sales tax before the voters next year. Earlier this year, a poll commissioned by Caltrain of 1,416 likely voters to see if they would support either an eighth-of-a-cent or a quarter-cent sales tax hike fell short of the two-thirds needed to pass.
Once respondents were given some arguments in favor of Caltrain and how the tax would help the trains, 66% said they'd vote for the tax, still a bit short of the 66.7% needed.
'I'm all in'
At the Nov. 21 meeting, board members from San Francisco and Santa Clara counties agreed to stop standing in the way of any funding pursuits. Members of the board had previously refused to support any tax measures without first discussing a change to how Caltrain is governed.
Cindy Chavez, also a Santa Clara County supervisor, said a ballot measure creates a sense of urgency and the six-month timeline for it is critical.
"I'm all in," she said, adding that she is very confident about where the board is heading.
Cheryl Brinkman, also a member of the San Francisco Municipal Transportation Agency's Board of Directors, said the city will not hold up approval for any funding efforts.
"We are all in," she said.
A sales tax is not the most progressive way to raise money, Brinkman said, but it is one of the only ways to do so. Raising the sales tax takes a larger chunk of change from people that ultimately have less money to spend.